DC Comics iPad app joins Marvel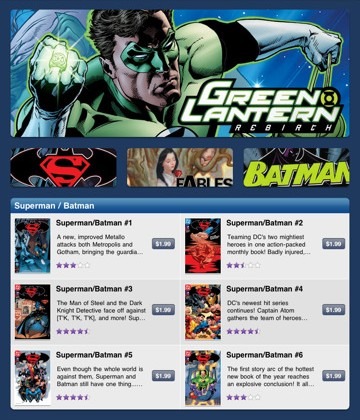 Marvel Comics no longer have the big-name iPad comic app space to themselves, with DC Comics launching their new reader with support for Apple's big-screen tablet.  The free DC Comics app [iTunes link] offers access to Superman, Batman, Wonder Woman, Green Lantern, The Flash and other titles, both from the publishers new releases and their back-catalog of classics.
Those are acquired via in-app purchasing, with titles ranging from around $1.99 for an individual issue to $2.99 for bigger comics.  They can be read either in full-page view, or using a simple tap-through guided reading system that moves you from pane to pane in the correct order.
Since it's also available for the iPhone – where it's also free – you can be reading comics no matter what iOS device you have with you.  More details here [iTunes link].