DataWind PocketSurfer3 revealed: new trackpad & improved display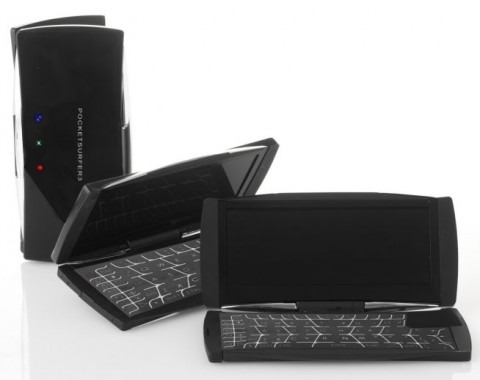 Turns out it's not only the new UbiSurfer that DataWind have announced this week: there's also the third-generation PocketSurfer [pdf link].  Two versions are now on offer, the PocketSurfer3 and PocketSurfer3 Lite, each offering 30hrs of included internet access per month (for UK buyers) together with a new touchpad for easier navigation and an improved LCD display.
As with the second-gen model, the PocketSurfer3 uses a GPRS connection and embedded SIM for mobile data access, with DataWind's page compression system for speedier loading.  Unfortunately there's no support for streaming video such as YouTube, so you're limited to static webpages on the 5-inch 640 x 240 display.
There's also GPS and a new Linux OS which offers basic office and PIM apps.  Roaming on the GPRS connection will cost £0.05 ($0.08) per minute in Europe and the US, and you can also upgrade to unlimited mobile access, at either £5.99 ($9.75) per month or a one-off charge of £59.99 ($98).  After the first year, mobile data access is £29.99 ($49) for another twelve months.
We're trying to clarify exactly what the difference between the standard and "Lite" models are with DataWind, and will update once we find out.  Both will be available from August, priced at £199.99 for the PocketSurfer3 and £159.99 for the PocketSurfer3 Lite.
[via Clove blog]