DataWind UbiSurfer: 7-inch netbook with bundled GPRS internet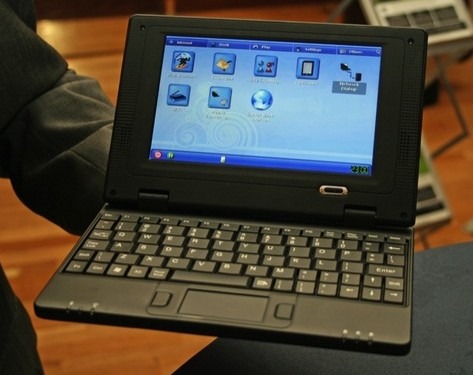 DataWind's PocketSurfer was one of those ideas that looked great – a clamshell internet access device with inclusive web browsing – but in practice was let down by an appalling screen, slow connection and frustrating "zero profile" RAZR-style keyboard.  Now the company is back, and this time they're bringing along a 7-inch netbook instead; the DataWind UbiSurfer will cost just £159.99 ($260) but come bundled with 30 hours of internet access per month for the first year.  Pocket-lint were on-hand for the launch, and grabbed some hands-on photos.
Don't be expecting high-speed 3G however; in fact don't even expect EDGE.  As with the Pocket Surfer, the UbiSurfer is limited to GPRS via Vodafone's network and an embedded SIM.  There's also WiFi b/g, while roaming on the GPRS connection will cost £0.05 ($0.08) per minute in Europe and the US.  You can also upgrade to unlimited mobile access, at either £5.99 ($9.75) per month or a one-off charge of £59.99 ($98).
After the first year, mobile data access is £29.99 ($49).  As for the UbiSurfer hardware itself, as well as the 800 x 480 screen there's 1GB of storage, 128MB of RAM, three USB 2.0 ports, an SD card reader and built-in microphone and speakers.  Software includes DataWind's own browser, basic office apps, calendar and email, a basic graphics app and some games.
The UbiSurfer seemingly uses DataWind's existing "web acceleration" system, which basically renders the page you want to view on their remote servers and then delivers an image of it over the GPRS connection.  When you click on a part of that image, the server renders the next page and squirts that over.  The upside is that loading times are much reduced, handy when you're on such a slow connection, but the downside is that streaming video is not supported.
The DataWind UbiSurfer should be available in the UK shortly.