Datasound LX800-LCD: Geode PC in a compact screen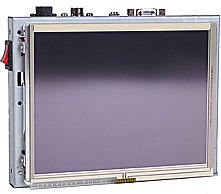 You know those case-mods where a slick little LCD is fitted into the front, showing status updates or CD cover-art?  Imagine how much cooler it would be to fit a whole new computer in, instead.  That's not exactly what Datasound envisage you doing with their new LX800-LCD computer – in fact they're meant for embedded kiosks and other such dull applications – but when faced with an AMD Geode LX800-based full PC squashed into an LCD panel's metal frame, I can't think of a better use.  There are four display sizes to choose from, ranging from 6.4-inches to 15.1-inches, and they're all passively cooled.
The Geode processor is running at a meandering 500MHz with 1GB of RAM and a choice of solid-state memory ranging from 64MB to 4GB (or you can plug in a standard laptop hard-drive).  Not exactly enough for gaming, but Datasound say it needs only seven watts of power and is happy with Windows CE or Windows XP Embedded (or Linux if you prefer).  No shortage of ports, either, with four USB, two RS-232 serial, one VGA, line in and line out audio and 10/100 ethernet.
Screen resolution ranges from 640 x 480 on the 6.4-inch, through 800 x 800 on the 8.4-inch, 800 x 600 on the 10.4-inch and up to 1,024 x 768 on the 15.1-inch.  Okay, so you're unlikely to pick one of these for personal use, but it certainly blows standard LCDs out of the water.  The LX800-LCD range is available now, priced from £465 ($915).
[via LinuxDevices]