Data Robotics DroboPro: 8 bays, up to 16TB storage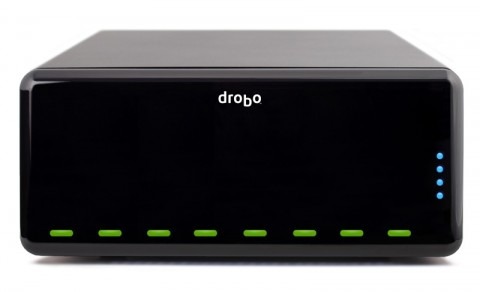 It's been almost 18 months since we reviewed the Drobo, and now Data Robotics are back with their latest model, the DroboPro.  Aimed at small businesses and professionals with huge quantities of data, the Data Robotics DroboPro has a full eight SATA I/II bays each happy with up to 2TB drives for a maximum of 16TB storage.  It also features the company's intelligent monitoring and management system.
That means  automatic setup, mixed capacity drives and even hot-swapping: you can pull out one drive at a time when in single-redundancy mode, or two at a time in dual-redundancy.  Even swapping between those redundancy modes is automated, and you can flip either way as often as you like with DroboPro working out all the details.  If you're very rich and have a lot of data, you can hook up sixteen different DroboPro units (each rocking 16TB) and address them as one common store.
Connections include a USB 2.0 port, two FireWire 800 ports (backward compatible with FireWire 400 with the right adapter) and a gigabit ethernet jack.  The latter is for playing nice with the super-fast iSCSI protocol.  No word on whether the DroboPro will work with the Drobo NAS peripheral.
Of course, this is resolutely a small business device and the pricing matches those aspirations.  An empty DroboPro costs $1,299, though Data Robotics will happily take $1,599, $1,849 or $3,999 off you for a DroboPro outfitted with four 500GB drives, eight 500GB drives or eight 2TB drives respectively.  There are also to configurations (four 500GB and eight 500GB) which include the 3U DroboPro Rack Mount, priced at $1,749 and $1,949 respectively.  The DroboPro is on sale now.
Press Release:
DATA ROBOTICS UNVEILS DROBOPRO, THE FIRST SMB DATA STORAGE SYSTEM THAT MANAGES ITSELF

Scalable BeyondRAID Platform Eliminates Capacity Over-Provisioning and RAID Lock-In

SANTA CLARA, Calif. – April 7, 2009 – Data Robotics, the company that is changing the way the world stores and protects digital content, today introduced DroboPro, the first business class storage array that manages itself. DroboPro delivers a radically simplified storage experience enhanced by advanced self-monitoring and self-healing functionality that enables small and medium businesses (SMBs) to maintain uptime in the face of constant data growth. Built on the company's award-winning BeyondRAID™ virtualized storage platform, DroboPro provides enterprise-level business continuity features—including protection against multiple concurrent drive failures and no-downtime capacity expansion with thin provisioning—while eliminating the lock-in of traditional RAID configurations.

DroboPro with BeyondRAID offers IT managers the unprecedented flexibility to replace failed disks, upsize the capacity of disks, and with one click switch between single and dual disk redundancy without costly downtime. Providing the most straightforward user experience ever designed for business class storage, DroboPro enables companies to devote more resources to business growth and significantly less time and money to managing their storage. With DroboPro IT managers no longer have to make difficult and confining choices upfront about how to provision capacity for the future.

"At many businesses, IT managers are responsible for much more than just storage, let alone having to predict the future of their company's business and dynamic storage needs," said David Reinsel, group vice president, storage and semiconductors, at industry analyst firm IDC. "A forward-thinking approach to flexible and highly available data storage, like Data Robotics' DroboPro, not only should save IT managers capital and administrative costs, but also should provide them more time to focus on managing their front-end applications, such as Microsoft Small Business Server and Microsoft Exchange."

"It's critical that our company's data is always accessible. Devoting time and resources to manage our storage is challenging, especially as our data continues to grow each year. The ability to survive two drive failures and DroboPro's high-speed iSCSI interface make it the ideal primary storage for our mission-critical applications server," said Wayne Titus, owner, AMDG Financial. "Because DroboPro manages the RAID levels automatically, we no longer need to buy more storage than we need today in anticipation of estimated future requirements. As our business grows, DroboPro grows with us. We can add additional drives as needed, and the new capacity is instantly available. With DroboPro, we have a high-performance storage solution our business can afford, with the features, functionality, and ease of use that are ideal for any small business."

DroboPro Features and Benefits

Up to 8 Disks for Instant Expansion to 16TB and Beyond

Customers can grow storage in line with their data capacity needs with minimal effort. To add capacity, customers simply insert a new hard disk or replace the smallest disk with a larger one, even when all eight disk bays are full. Unlike traditional RAID systems, the BeyondRAID technology found in DroboPro enables IT managers to efficiently mix and match disk brands, capacities and speeds, enabling continuous expansion as disk capacities grow. With DroboPro expansion is automatic and instantaneous, and access to data is always maintained.

No Headache Dual Disk Redundancy

The DroboPro Dual Disk Redundancy option protects against the simultaneous failure of up to two hard disks. Customers can engage this option with a single click, without ever losing access to their data. When it runs out of capacity, customers can switch DroboPro back to single disk redundancy with a click. Unlike moving between RAID 5 and RAID 6, there's no need to reformat or migrate data off of the array, potentially saving hours or days.

The Virtues of Smart Volumes

Smart Volumes allow customers to create new volumes in seconds and manage 16TB volumes over time with ease. The timesaving Smart Volume management technology integrated into DroboPro allows volumes to pull storage from the common pool of disks rather than a specific physical disk allocation. The labor of resizing and migrating volumes is replaced with the simplicity of intelligent engineering.

Triple Interface Featuring iSCSI

DroboPro attaches directly to a server or workstation that requires storage, or to a shared server or workstation on a network that can provide access to multiple clients. Interface options include iSCSI (using Gigabit Ethernet), FireWire 800, and USB 2.0. DroboPro reduces the complexity of iSCSI by introducing zero configuration connection establishment for both Windows and Mac OS X.

Rack Mount Ready, Desktop Quiet

DroboPro fits into a rack mount environment or can sit on a desktop. Dual smart fans automatically manage their speed to optimize both cooling and operating noise. (DroboPro rack-mount sold separately.)

"DroboPro was built on the belief that there is no reason that storage should be complex or expensive in order to be effective. We've taken storage to a level that is truly simple and straightforward without losing the necessary features that businesses need," said Dr. Geoff Barrall, CEO and founder of Data Robotics. "Leveraging the capabilities that are built into DroboPro, businesses can quickly take advantage of this robust, cost-effective storage solution to ease the burden of nonstop data growth."

Price and Availability DroboPro is currently available starting at an entry price of $1299 MSRP, with multiple configurations to $3999 for a 16TB rack-mountable solution. DroboPro is available now from authorized partners worldwide and on www.drobostore.com. For a list of partners or to learn more about DroboPro, please visit www.drobo.com/drobopro.