Dane-Elec DaneDigital So Speaky PVR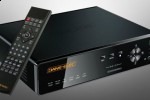 If you're looking for an alternative to the Archos TV+ or the AppleTV, Dane-Elec may have the option.  The DaneDigital So Speaky PVR is a network-connected hard-drive media player and recorder, available with anything from 320GB to 1TB of internal capacity and capable of recording DVD-quality video. 
Connections include two USB 2.0 host ports, one USB 2.0 port for hooking up the So Speaky PVR as an external hard-drive, one 10/100 ethernet port, A/V outputs, component outputs, HDMI, optical digital audio and a 5-in-1 memory card reader.  320GB, 500GB, 640GB, 750GB and 1TB drives are available, all 3.5-inch 7,200rpm, and it comes with an infra-red remote.
Supported media files include MPEG-1, MPEG-2 (720p & 1080i), MPEG-4 (1080p), XviD, DivX 3/4/5/6 (HD), IFO, VOB, DAT, AVI, MPG, MPEG 2 TS, ISO, MP4, MP3, WMA, WAV, AAC, OGG (no DRM), AC3, JPG, JPEG (720p/1080i) and BMP.  Dane-Elec also supply backup software for using the PVR as a NAS.
The Dane-Elec DaneDigital So Speaky PVR is available now, priced from €199 ($254) for the 320GB model, up to around €299 ($381) for the 1TB version.
[via GenerationMP3]