Damaged your Apple Watch? Here's what warranty will & won't cover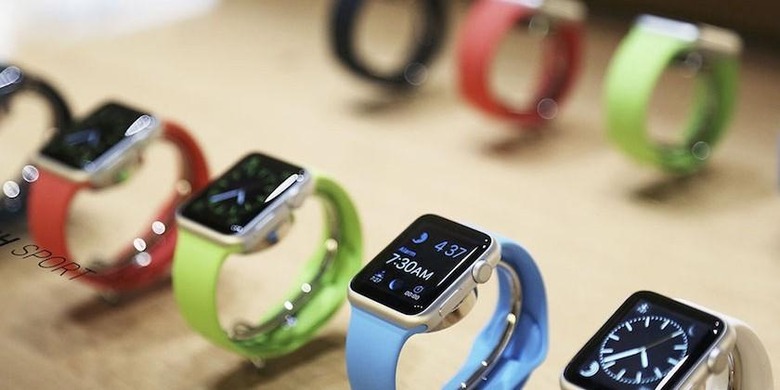 If you're already enjoying your new Apple Watch this weekend, the next thing that should come to mind is when it will be damaged in some way. Not "if," but "when." While you try to continue keeping it perfect condition, now is the time to brush up on what is and isn't covered by the smartwatch's 1-year limited hardware warranty. The following information comes from Apple's Visual Mechanical Inspection process, which is what all Apple authorized service providers must follow.
Fair warning, if the thought of seeing your new precious new Apple Watch scratched, cracked, or smashed terrifies you, the following images might give you nightmares. But forge ahead, new Watch owner, and do what you can to prevent finding yourself in these situations.
First up are conditions that are eligible for warranty service. If an Apple Watch owner finds the screen has debris under the glass or abnormal pixels, condensation in the heart rate sensor windows, or the back cover is removed without damage, they are eligible for replacement. The inspection guide notes that there must not be any evidence of prying or enclosure damage when the back cover has been removed.

The following are conditions that are eligible for out-of-warranty service: a Digital Crown cap that is cracked, removed, missing, or damaged; extreme abrasion, puncture holes, or damage from being dropped such as missing buttons; multiple cracks or chips in the glass; a removed back cover with evidence of prying or enclosure damage present; cracks in the back cover; and bent or split band enclosures, or missing band release buttons.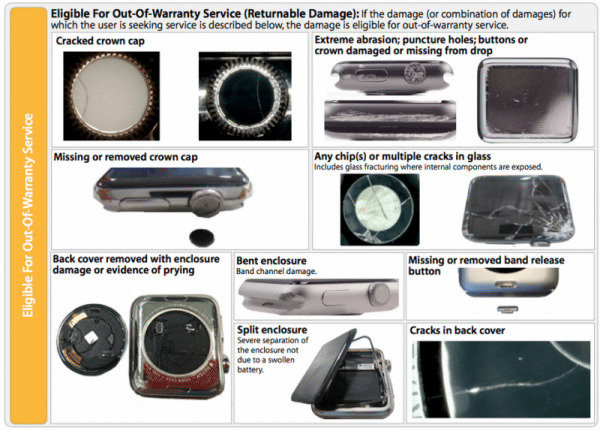 The costs for such out-of-warranty services are dependent on what model of Watch a user owns. Repairs will cost $229 for the Sport, $329 for the Watch, and $2,800 for the Edition, Apple revealed earlier this month.
When it comes to the worst types of damage, Watches that have been disassembled or are missing multiple parts, seen catastrophic damage, have counterfeit or third-party parts, or unauthorized modifications and non-Apple installed parts are considered ineligible for warranty as well as non-returnable. It is also noted that AppleCare+ Protection Plan may cover catastrophic damage, but that is on a case-by-case basis.

SOURCE MacRumors