D-Link Powerline Home CCTV kits for easy internet surveillance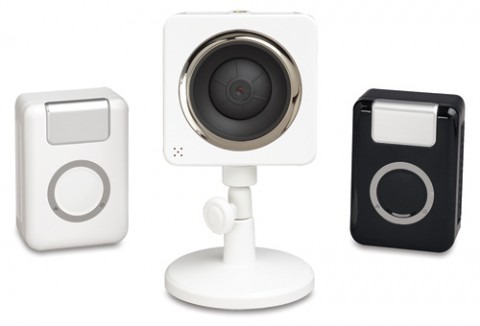 D-Link have announced a series of new home-starter internet surveillance kits, which use Powerline networking to make setup straightforward.  The three initial products consist of the DHA-390 starter kit, which comes with a single CCTV camera and Powerline receiver/transmitter pair, the DHA-310 expansion kit, which offers an additional camera and Powerline transmitter, and the DHA-330 video player, which is a 7-inch monitor suitable for local or remote viewing.
Installation basically involves plugging in the Powerline adapters, then hooking up the camera to one and your router to the other.  After entering the camera's unique PIN at D-Link's site, you can then access the CCTV stream from any internet-connection.  The DHA-330 video player can either be linked in via Powerline or directly to a wired ethernet connection, and offers direct viewing and motion-detection while doubling up as a digital clock.  There's also a speaker, to listen in on what's happening near the camera.
All three products are available now.  The DHA-390 starter kit is priced at $249.99, the DHA-330 video player at $209.99 and the DHA-310 expansion kit at $199.99.
Press Release:
D-LINK NOW SHIPPING ENHANCED D-LIFE SECURITY CAMERA SYSTEM CHANNEL-WIDE FOR EASY HOME SURVEILLANCE

FOUNTAIN VALLEY, Calif., Feb. 11, 2009 – Do you need a video monitoring system for your home, but are not sure if you can afford it? Or, maybe you just didn't want the hassle of installing one. D-Link has a solution that boasts ease of use.

The leading computer networking solutions provider for consumers and business today announced its easy-to-install, easy-to-use D-Life® Web-based home surveillance camera systems are now available channel-wide and have enhanced optics, lower prices and key features designed to keep the home safe and secure.

Now shipping, the D-Life security systems offer users maximum flexibility for monitoring their homes with a series of three different products – the D-Life Internet Surveillance Camera Starter Kit (DHA-390), the D-Life Internet Surveillance Camera Expansion Kit (DHA-310), and the D-Life Internet Surveillance Video Player (DHA-330).

DHA-390 D-Life Internet Surveillance Camera Starter Kit

The DHA-390 is an easy-to-install, easy-to-use Internet camera surveillance solution that allows you to monitor any room in your house from anywhere over the Internet.

Eliminating the need to run cables throughout the home, the D-Life Internet Surveillance Camera Starter Kit consists of one compact Internet camera and two Powerline adapters that take advantage of the home's existing electrical power wiring for connecting the Internet camera to the network and to the Internet. Setup is easy with D-Link's zero-configuration – after one Powerline adapter is plugged in and connected to a router, the other Powerline adapter is plugged in and connected to the Internet camera. Devices and cables are color coded to assure foolproof connections. Once the user registers the camera with the provided unique pin code on the D-Life website, www.d-life.com, the DHA-390 will automatically configure itself, connect to the D-Life service and be ready to use.

The D-Life website takes the work out of activation and management of devices by offering the following simple user experience:

Connect

To set up the product the user follows these steps

• Connect the D-Life-Enabled product(s) to the home network

= Go to www.d-life.com and set up a user account with a personal password

• Add the product(s) to the D-Life account by entering the product ID numbers located on each device

• The user is ready to go, simple as that

Organize

Users manage and organize their D-Life products from one central place, via an easy to navigate website

• Users can easily add new D-Life products to their existing account

• Users can define their D-Life profile and define the settings for their D- Life-Enabled products

• Users can view live video from any of their D-Life registered cameras

• Users can enable motion-detection, email notification and view motion

activated snapshots

Empower

Users get more from their digital products then ever before

• Allow other D-Life users to share their products, including the remote viewing of security camera video, with other D-Life users

Users can watch their live video feed or view the status of their camera(s) over the Internet, whether at home or at the office, by signing into the D-Life website and simply clicking on the camera icon. Up to four cameras can be viewed and controlled simultaneously, and users can share camera feed access with other D-Life users.

Included with the DHA-390 starter kit is free access to the D-Life website, which provides for easy configuration and management of D-Life products, remote live video viewing, and also stores motion activated snapshots that may be viewed or shared. Photos are saved to a secure D-Life server, allowing password controlled access to the snapshots even if the user's PC is turned off, damaged or stolen. Other key features include:

+ E-mail notification of motion-triggered events

+ Low-light video capture

+ Built-in microphone

+ Adjustable, mountable camera stand

+ Expandable via the D-Link DHA-310 Internet Surveillance Camera Expansion Kit

For users who want to add more Internet cameras to their DHA-390 surveillance starter kit, D-Link offers the DHA-310 expansion kit, providing an extra camera and Powerline adapter for their network.

The DHA-310 boasts the same features as the DHA-390, including remote access and D-Life zero-configuration setup.

DHA-330 D-Life Internet Surveillance Video Player

The D-Life Video Player is D-Link's newest Powerline-enabled Internet camera viewer that allows for easy monitoring of all D-Life cameras connected to the network, regardless of whether they are installed locally or remotely. Once connected to a home's electrical outlet and Powerline network or directly to an Internet router, the DHA-330 allows users to view live video virtually anywhere in the home or remotely at the office or other locations over the Internet. Also equipped with a motion detection sensor, it is ideal as a baby monitor or as a way to watch what is going on in the home or office from anywhere over the Internet.

The video player also functions as an attractive alarm clock. Users can choose either an analog or digital display, and the clock can be used as a screensaver when the player is inactive.

Other key features of the DHA-330:

? 7-inch LCD screen

? Built-in speaker for camera audio playback

? Touch sensitive buttons

? Desktop or wall-mount

Price and Availability

The D-Life Internet Surveillance Camera Starter Kit (DHA-390), the D-Life Internet Surveillance Video Player (DHA-330), and the D-Life Internet Surveillance Camera Expansion Kit (DHA-310) are available now from D-Link retailers, etailers and distributors, and at D-Link's online store, www.dlinkshop.com for the manufacturer's suggested retail price (MSRP) of $249.99, $209.99 and $199.99 respectively.

About D-Link

D-Link is the global leader in connectivity for small, medium and large enterprise business networking. The company is an award-winning designer, developer and manufacturer of networking, broadband, digital electronics, voice, data and video communications solutions for the digital home, Small

Office/Home Office (SOHO), Small to Medium Business (SMB), and Workgroup to Enterprise environments. With millions of networking and connectivity products manufactured and shipped, D-Link is a dominant market participant and price/performance leader in the networking and communications

market. D-Link Systems, Inc. headquarters are located at 17595 Mt. Herrmann Street, Fountain Valley, Calif., 92708. Phone (800) 326-1688 or (714) 885-6000; FAX (866) 743-4905; Internet www.dlink.com.

D-Link, D-Life and the D-Link logo are trademarks or registered trademarks of D-Link Corporation or its subsidiaries in the United States and other countries. All other third party marks mentioned herein may be trademarks of their respective owners. Copyright©2009. D-Link Corporation/D-Link Systems, Inc. All Rights Reserved.