D-Link MainStage for WiDi 2.0 notebooks offers plug'n'play streaming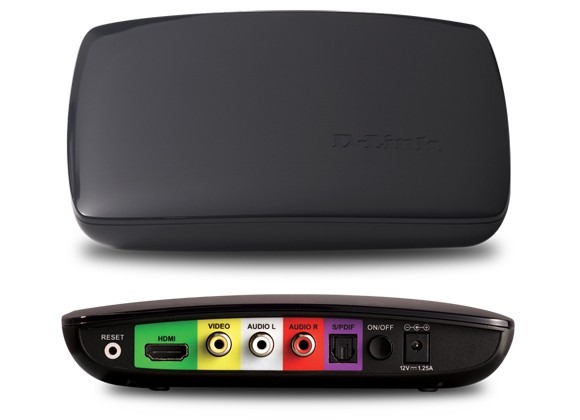 The range of ways to get your PC-bound content onto your big-screen TV increases, with the arrival of the D-Link MainStage for Intel Wireless Display. Intended to work with WiDi 2.0-enabled laptops, the DHD-131 is a compact, HDMI-toting STB that allows you to stream up to 1080p HD video and 5.1 surround sound to your HTDV.
As well as locally-stored videos and photos – ideal for boring family to death with the slides from your most recent holiday – you can stream Hulu and Netflix content via the WiFi link as well. For those times when you need to be professional, you can use WiDi to squirt presentations over to a projector or big screen.
Connectivity includes HDMI, composite A/V and S/PDIF digital auto outputs, and setup is apparently as easy as pressing a single button. You'll obviously need a WiDi-enabled notebook, though, which means a second-gen Intel Core processor with onboard graphics.
The D-Link MainStage is available in the US now, priced at $129.99. Canadian streamers will be able to grab it for CA$129.99 come July.
Press Release:
D-Link Now Shipping MainStage™ for Intel® Wireless Display, Enabling Consumers to View and Enjoy Laptop Content on a Big Screen HDTV

D-Link's Easy-to-Use MainStage for Intel® WiDi-Enabled Laptops Allows Consumers to Surf the Web, Watch Movies and Shop Online from a TV

FOUNTAIN VALLEY, Calif. – June 14, 2011 – D-Link today announced its MainStage™ for Intel® Wireless Display (DHD-131) is now available, offering consumers an easy way to enjoy and share content from laptops[i] on an HDTV, from surfing the Web, to viewing photos, to streaming online videos.[ii] Delivering the web directly to TV screens, D-Link's new MainStage makes the biggest screen in today's homes the "main stage" for an array of home entertainment in 1080p HD and 5.1 digital surround sound.[iii]

"The Internet is truly indispensible in today's homes – whether for enjoyment, work, school, or sharing family moments," said Daniel Kelley, associate vice president of consumer marketing, D-Link North America. "MainStage lets you wirelessly project movies and TV shows from Netflix and Hulu, or personal home videos and photo slideshows, to the best screen in the home, the HDTV. If you already own a notebook with Intel Wireless Display, it's one of the easiest ways to work and play online from your couch."

D-Link® MainStage enables consumers to seamlessly enjoy and share PC content from an Intel® Core™ processor-based notebook on a TV. Simply plug MainStage into the TV using an HDMI or A/V cable and with a push of a button automatically connects to your router, allowing consumers to surf the web and view home movies from a home network or laptop. In addition to enjoying content at home, MainStage also offers today's mobile professionals an easy way to send colorful and animated presentations and online content to flat-panel displays in conference rooms for a range of business presentation needs. Furthermore, while MainStage users are showing a movie or presentation on the big screen, they can simultaneously work on the notebook that is projecting to the TV.

"D-Link's MainStage TV adapter is a great example of Intel® WiDi 2.0 in action," said Joe Van de Water, consumer product marketing manager at Intel. "Intel WiDi 2.0 lets you wirelessly stream content from your PC to your HDTV with no cables or attachments to your PC. With Intel WiDi 2.0, you can enjoy Blu-ray movies, DVD movies, and content from Internet services like Intel Insider on your HDTV with up to 1080p HD clarity and 5.1 surround sound, and also share pictures, music, or videos."

MainStage for Intel® Wireless Display is compatible with any Intel® Wireless Display enabled system. 1080p and Blu-ray or other protected content playback is only available on second generation Intel® Core™ processor-based PCs with built-in visuals enabled, a compatible media player and supporting Intel WiDi software and graphics driver installed. For more information on laptop requirements and compatible products, please visit www.intel.com/go/wirelessdisplay.

Availability and Pricing

MainStage (DHD-131) is now available throughout D-Link's network of retail and e-tail outlets for an MSRP of $129.99 in the U.S., and will be available in Canada in July for $129.99. It will also be offered at the company's online store, http://www.dlinkshop.com.