D-Link dual-band MediaBridge DAP-513 wants to get your console online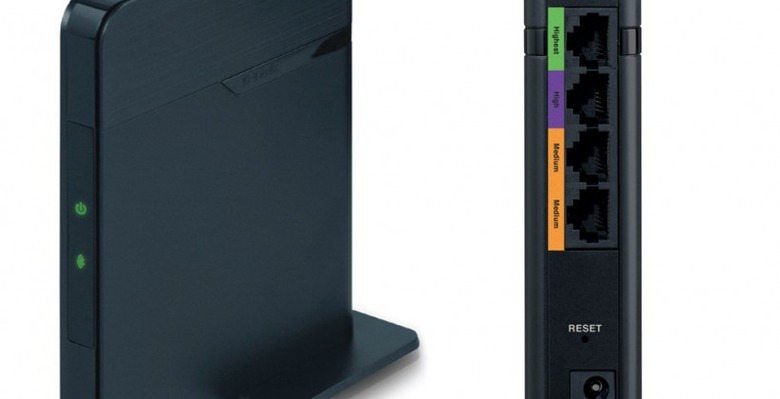 D-Link has unveiled its latest MediaBridge, a monolithic totem intended to get up to four wired internet devices – like your Xbox 360, PS3 or STB – hooked up to your wireless network. The D-Link Wireless N Dual Band MediaBridge DAP-1513 is as functionally straightforward as its name is ridiculously long: four 10/100 ethernet ports on the back, and WiFi a/b/g/n 2.4/5GHz inside.
Now, it's worth noting that those two bands can't be simultaneously active: it's either 2.4GHz, for greater compatibility with existing network hardware, or the 5GHz band for what's usually faster speeds. There's Intelligent Quality of Service tech inside too, which can supposedly pick through your network traffic and prioritize what it reckons is more important; so, your gaming connection shouldn't lag just because someone else is copying some files across.
It'll also work as a network extender, bridging your wireless connection into areas your existing router can't quite reach. The D-Link DAP-1513 is available now, priced at $119.99.
Press Release:
D-Link Announces Wireless N Dual Band MediaBridge® For Simple and Easy Expansion of a Wireless Home Network

Wireless Bridge Enables Consumers to Add Up to Four Devices to a Home Wireless Network

FOUNTAIN VALLEY, Calif. – May 25, 2011 – D-Link® today announced its new Wireless N Dual Band MediaBridge® (DAP-1513), allowing consumers to easily expand a home network by wirelessly connecting up to four devices. Equipped with 802.11n technology, 2.4 GHz and 5GHz dual-band, for an enhanced media experience and a four-port Fast Ethernet switch, the DAP-1513 is ideal for connecting a wide range of network-ready devices for streaming HD videos, playing online games and sharing music, photos, movies, and more within a home network.

Featuring selectable dual-band to offer flexibility on how to best connect to the home network, the DAP-1513 can bridge a wireless signal from either a 2.4GHz or 5GHz network. Consumers can choose from the 5GHz band, ensuring smooth video streaming or online gaming with less interference, or the 2.4GHz band, ideal for surfing the Web or sharing photos. In addition, Intelligent Quality of Service (QoS) automatically organizes and prioritizes network traffic according to bandwidth needs to ensure a smooth connection over both wired and wireless networks.

"The Wireless N Dual Band MediaBridge allows consumers to quickly and easily expand their home wireless networks to connect PCs, game consoles, media players, and more without running any messy cables," says Daniel Kelley, associate vice president of consumer marketing, D-Link North America. "And, dual-band connectivity makes it ideal for streaming HD video content, whether you're watching your favorite shows or battling with friends in an online game."

The DAP-1513 offers four Fast Ethernet 10/100 ports for fast wired connectivity, supports WPA™ and WPA2® security standards and features Wi-Fi Protected Setup (WPS) for push-button security and top-of-the-line encryption from possible Internet threats. And with 24-hour support for basic installation available seven days a week, it's never been easier to expand a home network.

Availability and Pricing

The DAP-1513 Wireless N Dual Band MediaBridge is now available for an MSRP of $119.99 (U.S.) and $99.99 (Canada) throughout D-Link's vast network of retail and e-tail outlets in North America, including Fry's and Micro Center, and at the company's online store, http://www.dlinkshop.com.