D-Link DHP-1320 Wireless-N router adds PowerLine 200Mbps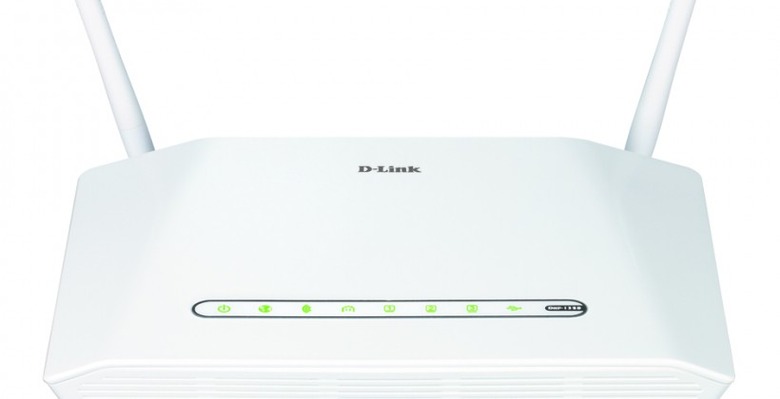 D-Link has unveiled its latest router, the DHP-1320, a combination Wireless-N and PowerLine 200Mbps hybrid. Packing three 10/100 ethernet ports, WiFi g/n wireless with WPA and WPA2 encryption, and up to 200Mbps data through your home or office electrical wiring, the D-Link DHP-1320 promises sufficient speed to stream HD video without having to worry what walls are in the way.
As well as the DHP-1320, D-Link is also offering a PowerLine AV 4-Port Switch (DHP-346AV) for $99.99, a PowerLine AV Wireless N Extender (DHP-W306AV) for $119.99, and a PowerLine AV Network Starter Kit (DHP-307AV) for $139.99. However, the system is compatible with any HomePlug AV kit, so it should fit in with other manufacturers' offerings too.
The D-Link DHL-1320 will be available from today, priced at $129.99.
Press Release:
D-Link® Hybrid Wireless-N PowerLine Router Now Available

200 Mbps Combination Wi-Fi and PowerLine Router, Along with PowerLine Adapters and Switches, Enable Consumers to Work, Play, View, and Share Anywhere in the Home

FOUNTAIN VALLEY, Calif. – March 2, 2011 – D-Link® today announced its Wireless-N PowerLine Router (DHP-1320), a combination networking solution for extending wired and wireless home networks throughout the house by tapping into a home's electrical wiring, is now available. This combination IPv6-ready network solution merges PowerLine 200 Mbps technology with a Wireless-N router and Ethernet ports, offering consumers two connectivity options to extend home network coverage and enjoy high-bandwidth applications, including HD video content, multimedia, VoIP calls, and more.

"As the amount of high-bandwidth Internet-based content viewed and shared in today's homes continues to grow exponentially, superior network coverage is essential," said Daniel Kelley, associate vice president of consumer marketing, D-Link North America. "With this combination router and D-Link's line of PowerLine accessory products, we're able to provide consumers with a simple way to extend their networks into 'dead zones' where wireless coverage has previously been limited or spotty, such as a basement, an upstairs bedroom, or other hard to reach locations."

Wired and Wireless Network Coverage Anywhere in the Home

The DHP-1320 extends wired and wireless networks to all devices in the home with optimal speed and bandwidth for a range of HD video-on-demand, gaming and other applications. Essentially turning a home's existing electrical system into an Ethernet network, PowerLine's extended coverage can be obtained without any drilling, difficult installation or messy cables. Simply plug the DHP-1320 into an electrical outlet and the technology distributes broadband to Internet-connected devices both wirelessly and through the electrical wiring in a home. D-Link® PowerLine adapters then plug into outlets anywhere in the home to extend wired coverage to additional rooms and devices where coverage is limited.

The DHP-1320 also provides IPv6 support, enabling consumers to future-proof their home networks for the next-generation of the Internet, ensuring connectivity with new wireless devices for years to come.

Additional features of the Hybrid Wireless-N PowerLine Router (DHP-1320) include:

· HomePlug AV certified with up to 200Mbps throughput

· Wireless N 300

· 3-Port 10/100Mbps Fast Ethernet Ports

· Wi-Fi® Protected Setup™ (WPS) for Simple Push-Button Wireless Network Configuration

· Atheros Hy-Fi™ technology expands coverage, improves performance and simplifies network set up and management

· Built-in QoS Engine Enhances Internet Experience

· Supports Secure Wireless Encryption Using WPA™ or WPA2™

· Supports 128-bit AES Encryption For PowerLine Network Security

· PowerLine Sync Connection (ENY) Button

· Plug & Play Installation

Also shipping are a number of 200 Mbps PowerLine accessory products, including the PowerLine AV 4-Port Switch, Wireless N Extender, and Network Starter Kit. Combining these products with the DHP-1320 allows consumer to create the ultimate wired and wireless home network.

Availability and Pricing

The DHP-1320 Hybrid Wireless-N PowerLine Router is now available throughout D-Link's vast network of retail and e-tail outlets in North America, and at the company's online store, http://www.dlinkshop.com, with an MSRP of $129.99.

The following 200 Mbps PowerLine products are also now available:

· PowerLine AV 4-Port Switch (DHP-346AV); $99.99

· PowerLine AV Wireless N Extender (DHP-W306AV); $119.99

· PowerLine AV Network Starter Kit (DHP-307AV); $139.99