D-Link battery-powered WiFi router and charger hits shelves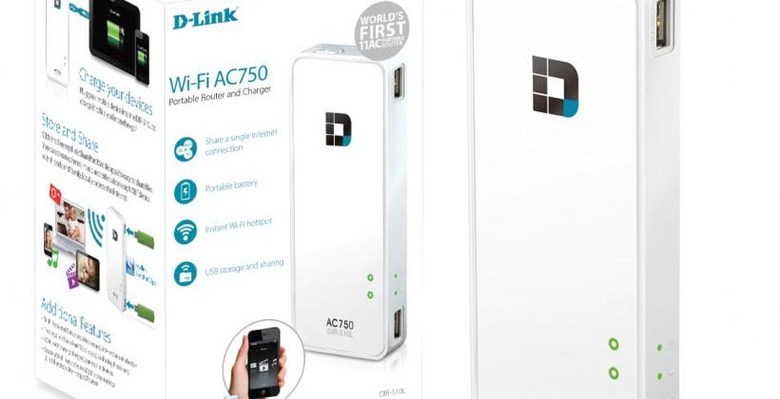 D-Link's unusual little portable WiFi 11AC router and mobile charger has hit shelves, offering both an AC-adapter free to share a data connection with multiple devices, as well as keep a phone topped up. Announced back at CES, the AC750 Portable Router and Charger DIL-510L can be hooked up to an ethernet connection – as you might find in a hotel room – or alternatively a USB 3G/4G modem, sharing them to multiple WiFi a/b/g/n/ac clients.
In addition to the router, however, there's also a 4,000 mAh battery inside. That can be used to charge other devices through one of the USB ports, or simply to keep the DIL-510L itself running.
The two USB ports can be used with USB drives or external hard-drives, sharing their contents over the WiFi network. D-Link also offers a SharePort Cam app for mobile devices, which makes for easier streaming of photos, music, video, and documents saved on an attached drive.
It's even possible to hook the AC750 up to a WiFi hotspot – where it will present as a single client – and then use it to re-share that connection among multiple other devices. That could be useful in a hotel where access is charged on a per-device basis.
The D-Link AC750 Portable Router and Charger DIL-510L is available now, priced at $99.99.