Cyber Sport Orbita Mouse review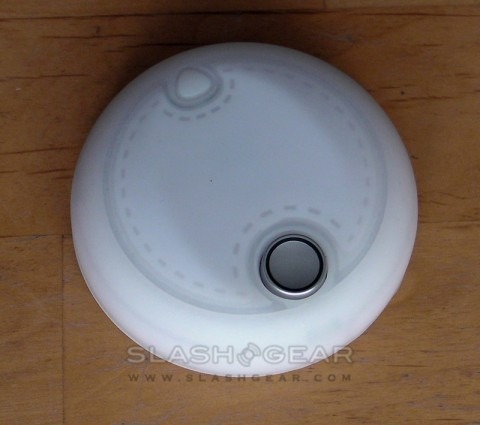 It may look like Apple's ill-fated puck mouse, but the Cyber Sport Orbita Mouse is a whole lot cleverer under its silicone skin.  Free-rotating for super convenient scrolling, the Orbita can be as simple as a new way to navigate webpages or as complex as a 3D controller.  SlashGear strapped on the crash helmets in preparation for some serious spinning.
For full unboxing and packaging details, check out the video unboxing; to summarize, your $98.50 gets you the Orbita mouse itself, the USB wireless receiver and charging dock, a neoprene carry pouch, user manual and software mini-CD.  Installation is straightforward, and in fact plug the Orbita in to any XP (or higher) or Mac (OS X 10.3.9 or later) computer and it'll be recognized as a normal mouse.  The software CD has the configuration drivers, though, which let you tweak sensitivity, scroll speed and more; after installing, they require a system reboot.
Unlike a standard wireless mouse, there's a little preparation required before you first use the Orbita.  Obvious it needs charging – approximately 3hrs in total – but the internal compass also needs calibrating.  To do so, you press the triangular button on top for 2 seconds, rotate the mouse 720-degrees in ten seconds while it beeps at you, and then press the button briefly again.  The Orbita beeps to let you know how you're doing; frustratingly, the regular beeping as you rotate isn't on every second, so you'll have to count along.
After calibration – which only needs to be done once, unless you significantly change your location and confuse the compass – the Orbita needs orienting.  To do so, you position the mouse with the triangle button pointing to whatever direction you'd like to have considered "up", and press it.  This can be done as often as you like, so casual web browsing sessions where you're slumped across the desk can be oriented to a different direction to your upright work mode.
If all that sounds like hard work, don't worry: it's not.  In general, you grab the Orbita off its charging dock and start working.  Cyber Sport is coy about runtime from the battery, but given the mouse automatically goes to sleep after 5 minutes of inactivity I never needed to recharge it during the workday.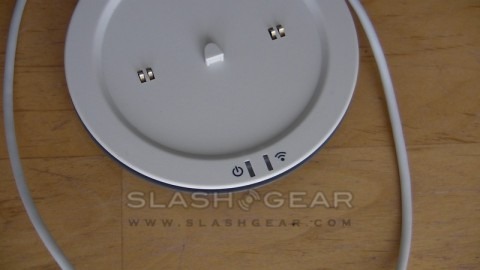 Once charged, calibrated and oriented, you're good to go.  The first few hours with the Orbita can be frustrating, particularly because of accidental clicks.  Given that the entire circumference of the mouse is in effect one big right-click button, squeeze or prod too hard and you'll regularly see context menus popping up. 
After some acclimatization, though, the Orbita begins to shine.  The standard bearing and the low-friction bearing wheels let it skip across most surfaces with the lightest touch, while scrolling – as is this mouse's forte – quickly becomes intuitive.  There's enough sensitivity to slowly and precisely inch through a list (or a video timeline), or alternatively you can whip the Orbita around to quickly scroll down a page.  Of course the mouse always knows which way is "up", and the 800DPI optical sensor proved precise and accurate.  The configuration software allows you to set the silver dimple button either as a middle-click or as a toggle between vertical or horizontal scrolling.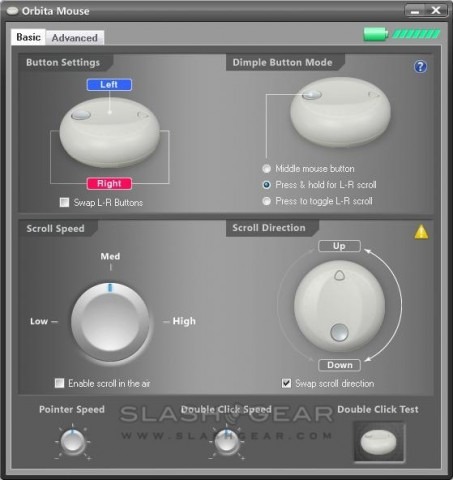 In fact there's plenty you can tweak to get the Orbita to your liking.  Scroll-direction and speed are two obvious choices, as are swapping the left and right mouse buttons, but you can also enable "scroll in the air" which uses the digital compass to continue scrolling even when you're holding the Orbita off the desk.  Under advanced settings you can switch the Orbital between being recognized as a mouse, a multimedia keyboard or a multi-axis controller, with different custom button and direction mappings, sensitivities and more.  There's also a profile system that lets you save custom profiles for different applications.
Cyber Sport have in effect given you everything from a basic scroll mouse replacement to a full 3D controller, with sensible enough defaults that, if the latter sounds too much like hard work, varying degrees of the former are easily played with out of the box. 
I'd thought this review would be pretty quick to churn out; let's face it, most mouse assessments come down to where you fingers sit – and whether it's comfortable – and whether the shape makes for accuracy and usability.  The Orbita scuppered my plans, simply because it took a while for my hand to adapt.  We're so used to frantically scrolling with our cramping index-fingers, gripping onto the mouse for dear life, that relearning a lighter touch takes time.
The Orbita Mouse probably isn't for gamers, but anyone who spends their time online, reading long documents or shuttling through multimedia editing should give it a try.  It's not a cheap peripheral, but the capabilities Cyber Sport's configuration software offer – if you're willing to explore a little and spend some time setting up custom profiles – mean you're getting much more than an odd-shaped mouse for your money.
The Cyber Sport Orbita Mouse is available now, from the company's online store.