Custom made AB Sutton leather MacBook Air case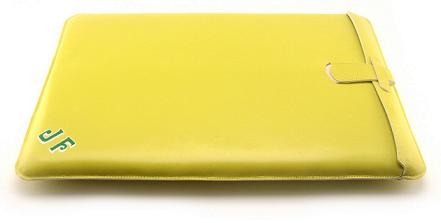 When one hears of a custom laptop sleeve generally it means it will end up costing thousands of dollars. However, this simple little monogram sleeve isn't exactly cheap but it won't cost you a fortune either.
It's made of kidskin leather and lined with organic sherpa cotton. The clasp is a ribbon pull clasp and you can have your initials painted onto the laptop case. It will take them about two to three weeks to finish and send off to you.
The AB Sutton cases have 50 different colors of leather to choose from, giving you plenty of options. Like I said before it isn't excessively expensive but it will cost you between $250 and $350. If you haven't heard of AB Sutton before, they also do custom iPhone, iPod and wallets.
[via shinyshiny]