Cubieboard blasts at Raspberry Pi with $49 power boost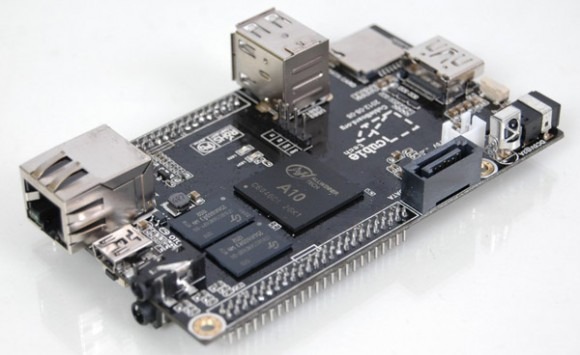 If you're on the lookout for a cheap prototyping/testing/tinkering board, and Raspberry Pi and Arduino haven't yet won your dollars, the $49 Cubieboard hopes it can win you over. Like the others, it's a palm-sized board that's fair bristling with connections, but it's also capable of quite a turn of speed, using a 1GHz AllWinner A10 Coretex A8 processor and Mali-400 graphics.
They're paired with 1GB of RAM and 4GB of onboard storage, while a MMC card slot can be used to add more. There's also a SATA port, two USB Host ports, 10/100 ethernet, and an HDMI output capable of 1080p Full HD video for hooking up your display. Finally IR – handy for home entertainment center integration – and a full 96 extender pins are on offer.
That's an impressive array of kit for $49, and there's a range of OS support too: Android and Ubuntu get namechecked, but it shouldn't be too tricky to get your own preferred flavor of Linux up and running. You can even overclock the processor to up to 1.5GHz.
According to the Cubieboard team, the first 100 boards were available at the start of this month, though supplies are still constrained. No word on when that might change.
[via Engadget]