Cube H600HDMI PMP: 6.99mm thick and huge codec support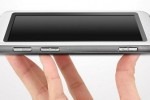 There's slim, and then there's wafer-thin-mint skinny, and it's obviously the latter that Cube's new H600HDMI PMP is aspiring to.  The 5-inch mediaplayer has an 800 x 480 resolution display, can cope with decoding up to 768p/30Mb media and is capable of outputting 720p/1080i video via its HDMI port, but most strikingly it's just 6.99mm thick.
That's pretty darned thin indeed – an iPod touch is 8.5mm thick, by comparison, while a Zune HD comes in at 8.9mm – and there's no shortage of codec support squeezed inside the casing.  The H600HDMI can play back RMVB, RM, AVI, FLV, MKV, DAT, WMV, MPG, MP4, MOV, PMP, VOB, H.264 (HP) and H.263 video files, while audio support includes MP3, WMA, WAV, APE, FLAC and OGG with DTS/AC-3 decoding.
It'll also work as an ebook viewer, photo viewer, FM radio, gaming machine and can act as USB Host to external memory; Cube are even boasting of a Sony PSP-inspired GUI.  Unfortunately there's no WiFi and no web-browsing, but if 8GB of storage is all you need, and you insist on wearing incredibly skinny jeans, then the 499 yuan ($73) price tag in China will seem a steal.
[via MP4 Nation]