Crystal Pepsi Is Back For Your 90s Retro Pleasure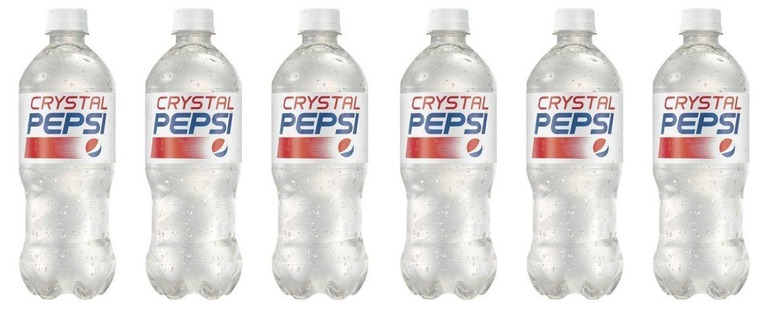 The quest to resurrect every possible nineties food icon as a retro throwback continues, with the oddly-transparent Crystal Pepsi latest to return to shelves. The caffeine-free clear drink was first launched in 1992, and stuck around for a couple of years until fading interest killed it; now, it's making a comeback.
According to Pepsi, that return has been "inspired by overwhelming fan demand," and the company hopes that those enthusiasts will happily spend $1.79 for a 20 ounce bottle this summer.
Sales kick off in Canada on July 11, and then in the US on August 8. Supplies will be limited, Pepsi says, though there's no word currently on how long Crystal Pepsi will stick around.
The beverage arguably has a more interesting history than most carbonated drinks can boast. Pepsi created it to capitalize on a trend for clear products, which marketers believed consumers associated with purity and goodness. That Crystal Pepsi ditched the caffeine found in regular cola helped on the front, too.
A big-budget Super Bowl advert set the tone, comparing a clear, caffeine-free soda to other scientific discoveries like personal computers.
However, it was not officially a diet drink, and indeed contained the same sort of amounts of sugar as regular Pepsi.
The Coca-Cola Company responded with Tab Clear, though according to at least one former executive at the firm claims the drink was never intended to capture the hearts of soda lovers, but instead to intentionally destroy Crystal Pepsi.
Sergio Zyman – best known for his role in the "New Coke" fiasco that saw Coca-Cola reformulate its recipe for a disastrous 77 day period in the mid-90s – says that Tab Clear's primary goal was to confuse consumers about clear colas and destroy the category entirely "by muddying it up," he told the authors of Sport Marketing.
Both Crystal Pepsi and Tab Clear were killed off by their respective companies within a year.
This time around, Pepsi is leaving little to chance and seemingly focusing on the retro appeal of its reborn drink. That's probably a sensible move, given the popularity – taste notwithstanding – of other recent soda returns such as Surge, which have capitalized on our eagerness to reminiscence more than they have actual flavor.