CrunchGear find Fusion makes media sharing simple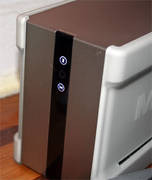 External storage is forever getting cheaper, so manufacturers are having to think outside of their USB2.0-enabled boxes to try to draw attention to their wares.  Network Attached Storage is a little cooler, but has yet to make a great impact on the home market.  Maxtor must be hoping their Fusion drive is the thing to change all that – while it's primarily an extra 500gb of space for your videos of Christmas morning, photos of tense family holidays and totally legal music downloads, it's also a straightforward and simple way to share that media with friends and family.
Fusion lets you set up secure folders to be shared over the internet, inviting people via email.  CrunchGear has tried this feature out with their review unit, so if you're interested in managing your own web server it's definitely worth a read.
Maxtor Fusion Hands-On [CrunchGear]