Crocs creates cellphone cases for Europe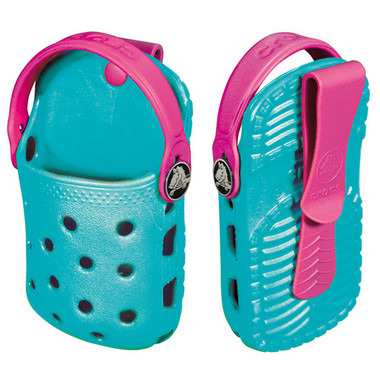 I'm sure by now everyone has seen proof of or joined in on the craze over the Croc shoes. I have only once been tempted to buy the rubber garden shoes, and that was because they looked like ballet slippers. Luckily I was broke so I will never have the shame of having owned a pair of garden shoes, because that's exactly what they are. Well if you are grumbling over my distaste with the Crocs, then you might be happy to know that Crocs are coming out with a cellphone case.
In the UK Crocs will release a cellphone case that looks very similar to their shoes. Thus far details are a bit skimpy, they don't mention what sizes of phones will fit or anything to that effect. Some will be happy to see the handy belt clip though.
They do mention that it will be available in eight different colors; black, silver, red, grape, fuchsia, celery, cotton candy and turquoise. It will be available May 1st of this year and will be sold for about $15.
[via justamp]