Creston Spotify app promises touchscreen home entertainment [Video]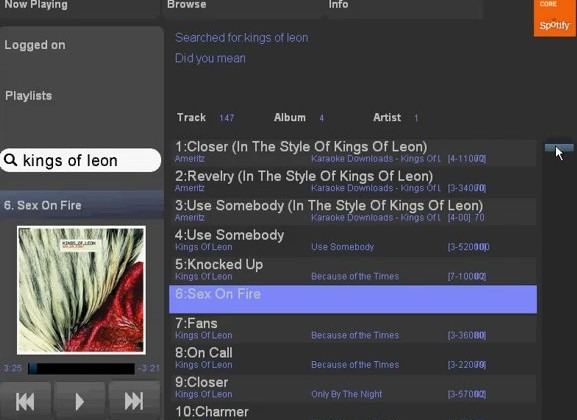 Spotify is great, particularly when you're having one of those parties where people keep asking "oh, have you heard that new track by...", but the current computer-bound UI isn't exactly conducive to being passed around.  If you're lucky enough to have a touchscreen Crestron home entertainment system, however, Custom Controls may have the app for you: they've whipped up a new UI that will allow for fingertip control of Spotify through Creston panels.
Video demo after the cut
The app – which is currently in beta stage – allows you to search Spotify's growing catalog of tracks and albums, build and load playlists, and view album art.  We're presuming it takes advantage of the Spotify API, similar to the custom Spotify for Nokia N900 player we saw recently.
Unfortunately it doesn't look like the software will support multiroom playback – as in, you can't have different Spotify content playing in different rooms simultaneously, at least not without paying for multiple Premium accounts – but we're still counting our pennies to see if we can afford something with the Crestron logo.  Sadly that's probably only going to be a promotional t-shirt.
[via Automated Home]