CrestaTV universal TV tuner chip reaching manufacturers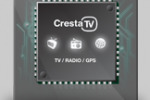 The days of a universal laptop TV tuner are almost upon us, as CrestaTech begin sampling their CrestaTV "universal broadband receiver".  Packing not only support for DVBT, ATSC, Cable QAM, NTSC and PAL TV standards, the CrestaTV also receives FM radio and features a GPS receiver, and could allow travellers to watch TV on their notebooks no matter where in the world they are.
The CrestaTV chipset uses a combination of hardware and software for its tuning, as well as linking the GPS to the TV so that it intelligently searches for the most likely local channels first.  No word on when we might expect to see it in production notebooks, nor how much it might add to the cost, but manufacturers have access to the reference boards now.
Press Release:
CrestaTech's New "HDTV Anywhere" Chip Now Ready for Sampling to PC OEMs

Innovative architecture turns laptop PCs into globetrotting TVs

SAN FRANCISCO & SANTA CLARA, Calif. –(Business Wire)– Sep 22, 2009 Get ready to get global with HDTV on a PC. Reference designs and samples for CrestaTech's new programmable broadband technology are now available, enabling PC manufacturers to pop in one universal chip and support all analog TV and digital TV standards worldwide.

Demonstrated publicly for the first time at this week's Intel Developer Forum 2009, the CrestaTV™ Universal Broadband Receiver technology combines a programmable RF IC and software that will allow PCs to receive live analog or digital TV broadcast, radio and GPS signals in any city, any region and any country around the world. CrestaTV unleashes unprecedented support for the widest variety of broadband frequencies ever.

As a result, for the first time, PC manufacturers can ship the same TV tuner module to Barcelona as they ship to Manhattan or St. Petersburg, ultimately streamlining the design and deployment process and reducing costs of the overall system.

And PC users can watch the TV they want wherever they travel, picking up local broadcasts or sportscasts by using embedded GPS capabilities to automatically create local channel guides in their area.

"No other chip overcomes the regional and technical limitations of on-the-go TV for PCs like the CrestaTV solution," said George Haber, CrestaTech president and CEO. "By supporting any TV broadcast standard anywhere, we're helping turn laptop PCs into truly mobile media centers, where consumers can experience the ubiquity of the Internet with broadcast television at the same time."

On display at booth 215, the CrestaTV Universal Broadband Receiver supports formats including DVBT, ATSC, Cable QAM, NTSC and PAL, along with FM radio and GPS capabilities.

CrestaTV is comprised of the CTC-200/201 programmable RF and Interface IC and multi-threaded signal processing software. The fully integrated solution eliminates all external filters. Supported frequencies include 45Mhz to 1GHz – and L1 band. OEMs can implement CrestaTV on PCI express cards for desktops and PCI mini-express cards or USB TV modules for laptops.

CrestaTech also offers a suite of companion software applications, CrestaWare, which provide fast channel scanning, enhanced reception, TV and radio tower geo-location and more. It also has an open platform for the development of social media and user-generated content programs.

Samples and evaluation boards are available for designers to quickly prototype and test global TV reception. Contact CrestaTech to arrange a demonstration or with any product requests.