Creative Vado point-and-shoot budget camcorder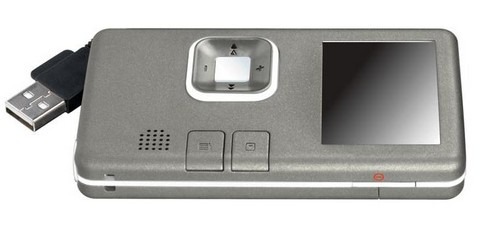 It's no XACTI botherer, but Creative's new Vado video camera will likely cause the Flip Video some headaches.  Intended to storm the budget camcorder market, especially targeting those users who aren't interested in manual settings and high-definition, the Vado comes with 2GB of onboard storage (good for 2hrs of footage), a 2hr battery and 640 x 480 VGA resolution.  A two-inch color screen does duty for viewing and reviewing what you've shot, while a flip-out USB plug means you needn't even bring a cable.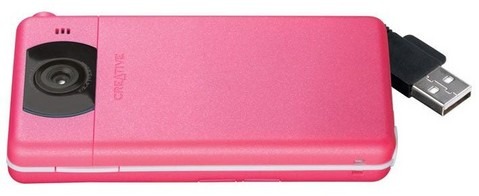 Creative are somewhat snidely pointing out that the Vado is "dramatically thinner and lighter" than rivals, despite the battery being user-swappable.  When plugged into a computer, software preloaded on the camcorder automatically pops up and walks you through transferring footage or uploading it to video sharing sites like YouTube.  Alternatively, you can treat it as an external drive and drag clips across from within Explorer.
Available in silver or pink, the Vado is priced at $99.99.  Creative is selling spare batteries for $14.99, and there's also a charging station priced at $29.99 or an AV cable for use with your TV for just $9.99.  It's on sale now at Amazon.com, B&H Photo, Buy.com, Creative.com, Fry's Electronics, J&R, and Newegg.com.