Creative Vado HD 720p $200 camcorder up for preorder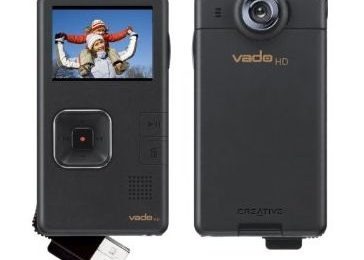 Creative Labs' as-yet unannounced Vado HD camcorder has been prematurely advertized by Amazon.  The point-and-shoot camcorder, which is capable of recording 720p high-definition footage, has gone up for preorder on the site, priced at $199.99 (with a given list price of $229.99).
The Vado HD is to be Creative's strike back against the Flip miniHD, launched earlier this month.  A high-definition update to the original Vado, the camcorder has the same 2-inch display, pop-out USB port for transferring footage or photos to a computer, and comes with the cables necessary to wire the Vado HD up to a TV for instant playback.
Measuring 3.3 x 7.9 x 6.3-inches, the Vado HD has 8GB of internal storage; that's enough for up to 2hrs of 720p MPEG-4 recording, or 8hrs VGA quality.  Our only concern is the protruding lens, which looks to stick out far more than the minoHD's assembly does.  No exact release date is given, but previous rumors have suggested December 7th. 
[Thanks Michael!]