Crash-avoidance tech rated as safest "smart cars" named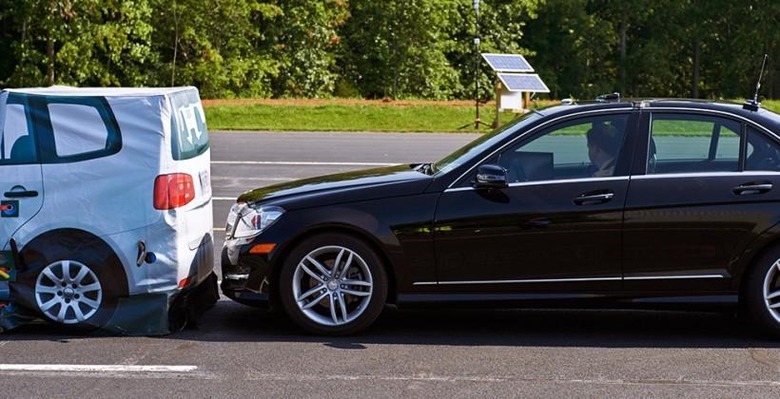 Independent testing on crash-avoidance systems has begun for the first time in the US, with the Insurance Institute for Highway Safety (IIHS) putting auto-braking and other technologies through their paces. The new program – which has started out testing 2013-14 model year midsize cars and SUVs – assigns one of three levels of performance to the systems it reviews, either basic, advanced, or superior. So far, out of 74 vehicles tested, the IIHS has found seven worthy of the top-tier superior rating.
"The Institute rates models with optional or standard front crash prevention systems as superior, advanced or basic depending on whether they offer autonomous braking, or autobrake, and, if so, how effective it is in tests at 12 and 25 mph. Vehicles rated superior have autobrake and can avoid a crash or substantially reduce speeds in both tests. For an advanced rating a vehicle must have autobrake and avoid a crash or reduce speeds by at least 5 mph in 1 of 2 tests" IIHS
The seven top-achievers are the Cadillac ATS sedan and SRX SUV, Mercedes-Benz C-Class sedan, Subaru Legacy sedan and Outback wagon, and Volvo's S60 sedan and XC60 SUV. The latter two get an advanced rating when not equipped with the optional "Collision Warning with Full Auto Brake and Pedestrian Detection" package.
Six cars – the 2014 Acura MDX SUV, Audi A4 sedan and Q5 SUV, 2014 Jeep Grand Cherokee SUV, Lexus ES sedan, and the 2014 Mazda 6 sedan – also received advanced ratings, when they were fitted with the autobrake and forward collision warning systems. Of the remainder, 25 got a basic rating, and 36 either do not offer a system, or have systems that don't meet the basic criteria.
The US government's official New Car Assessment Program (NCAP) – operated by the NHTSA – is probably the best known testing system for new car safety. However, while it flags up vehicles that offer crash-avoidance technology, it does not currently include their performance as part of its 5-star ratings.
Those endorsements require the system to issue a warning before a specified time, in 5 out of 7 test trials, and across three scenarios. If a vehicle meets the requirements, it also gets a "basic" rating in the IIHS system.
Crash-avoidance systems have become more commonplace in recent years, though manufacturers' approaches to the technology have varied considerably. However, with the rise in autonomous car research, the same equipment being used to avoid rear-collisions is now being repurposed to navigate self-driving cars. For instance, Nissan's autonomous Leaf prototype relies in part on the camera system installed for the existing Safety Shield technology, though also adds in front and rear laser radar for more accurate mapping of the surrounding area.