Cox "Unbelievably Fair" Wireless Launches: Pays Cash For Unused Minutes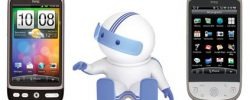 Cox Communications has outed its own wireless service offering, "Unbelievably Fair", initially catering to Hampton Roads, VA, Omaha, NE, and Orange County, CA. Cox's gimmick is the promise of MoneyBack Minutes: rather than, like most carriers, trying to encourage you to use your phone more, Cox will actually give users cash back every month in return for their unused minutes.
Admittedly it's only up to $20 per month, and Cox is likely hoping that subscribers will see that as a good excuse to pick a bigger plan in the first place. Users will also get a text message to warn them when they're close to their monthly minute and message allowance, and $0.05 per unused cash back.minute
Initial devices include the HTC Desire, Motorola Milestone, LG Axis, HTC Hero, HTC Wildfire, Samsung Messager Touch and the Samsung Profile, as well as the Cox 3G U210 On-the-Go Modem. Full plan details are below.
Cox is also offering perks for its TV or home internet users who sign up, such as a premium subscription HBO, Showtime, Starz or Cinemax or Cox Movie Pak, which includes Encore, Epix, Sundance and Vutopia; broadband users can upgrade from Preferred to Premier; or home telephone customers can add unlimited domestic long distance calling on their Cox Digital Telephone service.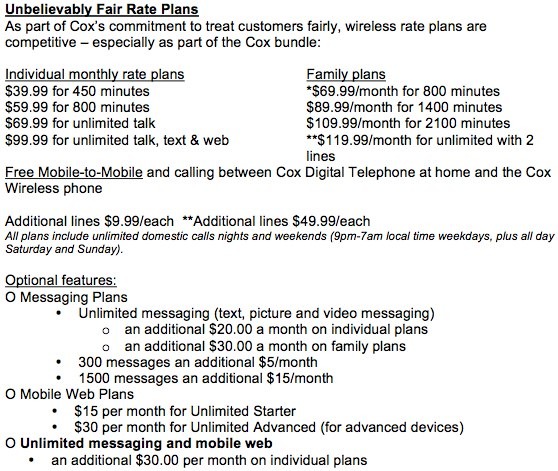 Press Release:
Cox Unveils Unprecedented 'Unbelievably Fair(SM)' Wireless Plans, Bringing More Value to the Bundle

MoneyBack Minutes(SM) and Free Usage Alerts(SM) Reduce Wireless "Gotchas;" Customers Enjoy Bundle Benefits(SM) – Faster Internet, Free Premium Channel or Free Long Distance

ATLANTA, Nov. 19, 2010 /PRNewswire/ — Cox Communications today unveiled its "Unbelievably Fair" mobile phone and high-speed Internet service throughout Hampton Roads, Va., Omaha, Neb. and Orange County, Calif. The addition of wireless to Cox's existing bundle of video, Internet and landline telephone services brings an unprecedented value proposition to consumers and introduces greater ease in integrating home and mobile services.

Today, Cox builds on its long history of innovation and customer service excellence with the launch of Cox Wireless. The company's market research revealed that consumers wanted a more fair approach to wireless and Cox is responding with MoneyBack Minutes. Cox is the first wireless carrier to provide cash back on customers' bills for unused minutes each month – up to $20 a month – a significant departure from the industry standard by which consumers lose unused minutes or carry them over from month-to-month with no monetary benefit.

"Wireless consumers have long been underserved on customer service," said Stephen Bye, Cox's vice president of wireless. "With our customer-centric approach, we're delivering much more than excellent network coverage and call quality. We went a step further by introducing new services and features to the Cox bundle that were built on fairness. Plus, with a robust portfolio of devices, a nationwide 3G network and award-winning customer service customers have come to expect from us, Cox delivers on the most important attributes of wireless service."

Cox's in-depth consumer research found that consumers are frustrated with surprise overage charges on their monthly bills. To further its commitment to delivering a more fair approach to wireless spending, Cox Wireless automatically provides customers with free text message Usage Alerts when they approach their maximum number of monthly minutes and messages. This "no surprises" service enables customers to adjust usage habits or upgrade rate plans to avoid overage charges. Cox also makes it easy to save minutes by providing free Mobile-to-Mobile and calling between the customer's Cox Digital Telephone and Cox Wireless phone.

To further sweeten the reward for existing customers, Cox's bundled customers can choose one free upgrade when they add Cox Wireless. With Bundle Benefits, Advanced TV customers can choose a free premium entertainment channel such as HBO, Showtime, Starz or Cinemax or Cox Movie Pak, which includes Encore, Epix, Sundance and Vutopia; high-speed Internet customers can upgrade from Preferred to Premier; or home telephone customers can add unlimited domestic long distance calling on their Cox Digital Telephone service.

"Cox's early entry to the telecommunications space has served it extremely well," stated Irene Berlinsky, senior research analyst with IDC. "Two-thirds of Cox's customers subscribe to multiple services, and a full one-third take all three currently-available services. With the addition of wireless services, Cox has devised an approach that is a natural extension of its bundle, providing value and simplicity which should resonate with consumers. An integrated wireless play also gives Cox the opportunity to lay the foundation for next-generation multi-screen innovation."

Retail Presence

With the arrival of Cox Wireless, mobile solutions are now available at the recently unveiled Cox Solutions Stores. At the heart of the in-store experience is the Learning Lounge, a comfortable area where a friendly and knowledgeable Solutions Educator is available to help customers get the most from their wireless device and mobile experience as well as other Cox products and services, such as programming your DVR from multiple devices.

"Throughout the Solutions Store, customers learn how easy it is to use many of the features and services of Cox Wireless, leaving with personalized knowledge that makes them feel excited and empowered in the wireless world," stated Tracy Nolan, Cox's vice president of retail. "The retail experience provides complete entertainment and communications solutions, providing the convenience of one-stop-shopping and making it easy for consumers to see the 'wow!' of integrating Cox products and services."

Wireless Devices

From Android™ enabled smartphones to feature-packed devices with BREW applications, Cox Wireless's portfolio of devices will meet the needs of every customer and continue to expand. Several of the devices were recently selected by Mashable.com as "hot electronics this [holiday] season." The devices available this holiday season* include:

HTC Desire™, an Android enabled touch smartphone with WiFi, 1 GHz processing speeds and HTC Sense™ interface

Motorola Milestone™, an Android enabled smartphone with WiFi, Qwerty slider keyboard, advanced processor with 3G speed, 3.7-inch screen and 5-megapixel camera

LG Axis™, an Android enabled smartphone with 3.2" (480x 800) touchscreen and slide out QWERTY keyboard, Wi-Fi and 3.0 MP camera which support panoramic shots

HTC Hero™, an Android enabled smartphone with WiFi and 3.2-inch touch screen

HTC Wildfire™ , an Android enabled smartphone with WiFi featuring app-sharing widget that works on Twitter, texts or email with a 3.2-inch touch screen

Samsung Messager Touch™, Brew enabled multimedia device featuring a 2.6-inch touch-screen, QWERTY keypad, pre-loaded widgets and 100 MB of storage

Samsung Profile™ , stay connected on the go with this 3G messaging platform on a BREW operating system. Includes a QWERTY keyboard with 2.4" screen and 2.0MP camera

Plus, several other feature phones and the Cox 3G U210 On-the-Go(SM) Modem, for Cox High Speed Internet On-the-Go(SM)

Click here to view the comprehensive device portfolio.

To help simplify customers' lives, the Cox Wireless experience will debut with popular Cox features already integrated into many of the mobile devices, such as the ability to program the home DVR and see TV listings from their mobile device. Similarly, Cox customers with an Android device can easily download the Cox Remote Guide Access app from the Android Market to also program their home DVR and see TV listings from their mobile device. This app marks the beginning of many Cox apps that will soon be available to provide greater convenience and mobility for Cox features and services. Additional features to simplify customers' lives include Universal Contact Manager to securely manage, backup and organize all Cox High Speed Internet and Cox Wireless contacts in one place; and Voice Mail to Text which converts voice mail messages to text and delivers them to the Cox Wireless device as a text message, giving customers the freedom to read messages and respond without ever dialing. Cox will continue to enrich and evolve its wireless experience by adding new features and services to enjoy while on-the-go.

For more information about Cox Wireless service and details on devices and all rate plans, including images and videos, visit www.unbelievablyfairwireless.com or www.cox.com (choose Hampton Roads, Va., Omaha, Neb., Orange County, Calif.)