Cowon W2 MID spotted in wild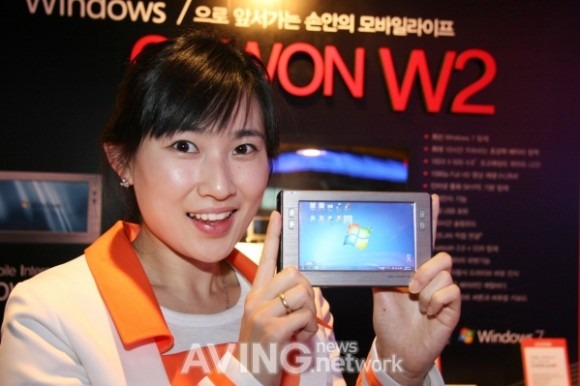 Cowon's W2 Windows 7 MID has finally been spotted in the wild, cavorting with a reasonably surprised looking model while in Korea.  Having been specified – and priced – earlier this month, AVING caught up with the 4.8-inch touchscreen tablet and grabbed some hands-on shots.
Unfortunately they've singularly failed to deliver any feedback about how the W2 actually performs, so we're still left wondering about whether the Atom 1.33GHz machine is reasonably functional or otherwise.  What we do get is a shot with it being used with a compact USB keyboard; it's unclear whether that's an unofficial accessory.
Still no word on whether Cowon will be bringing the W2 over to the US or Europe, or indeed whether their roughly $534 to $659 pricing would hold in the process.  The W2 has WiFi b/g, VGA output, two USB 2.0 ports and Bluetooth 2.0+EDR.