Cowon iAudio D2 Reviewed: DAB Touchscreen PMP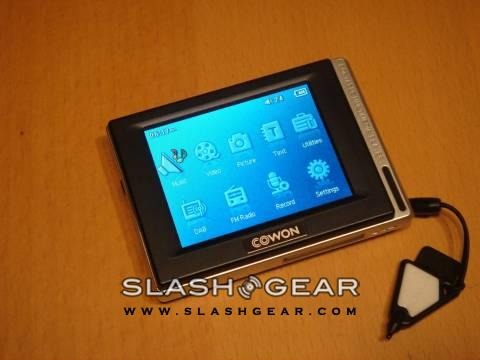 iPod who? Let's face it, if you're in the market for a portable media player and you're less than swayed by Apple's offerings, there's never been better choice of rivals, each playing catch-up to the market leader by offering – in general, anyway – bags more functionality. Of course, you may just be tired of seeing the same old iPod UI and having Jonathan Ives' handiwork flashed in your face on every street corner; in that case, there's plenty of different, and often just as successful, design out there to choose from. Cowon is a long-term player in the PMP game, and AdvancedMP3Players.co.uk were good enough to send over one of the company's latest devices, the D2; not only does it have up to 8GB of storage for your music, it also receives DAB digital radio and plays video too.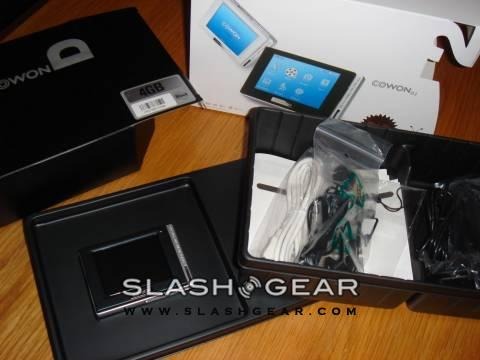 Measuring a pocket-friendly 3.1 x 0.7 x 2.2 inches (78 x 55.4 x 16.7mm) and weighing just 91g, the D2 has no buttons on its front and resembles a small digital photo frame; indeed, its crowning glory is a 2.5-inch, QVGA touchscreen capable of displaying 16 million colours (which sadly doesn't photograph well). Around the edges there are volume controls, a power/hold switch, microphone, headphone socket and a menu button that jumps you back to the home screen, together with an SDHC card slot on the bottom, while a slot in the side serves double purpose as both a place to attach a lanyard or strap and a point for the small, triangular stylus to clip in and serve double duty as a desk stand.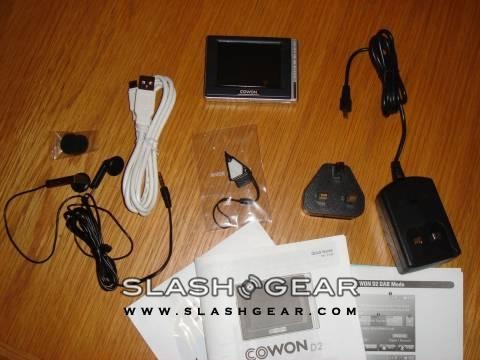 Build quality is excellent, and while the black plastic front bezel and rear panel aren't soft-touch plastic they are pleasantly matte; similarly, the metal edging is satin-finish. If anything, the fact that the casing is so solid makes you all the more wary for the touchscreen – it's a traditional passive touchscreen, responding to both the stylus and your finger, and Cowon supply neither a case for the PMP nor a screen protector. Since just about every function is controlled by touch, I was wary of putting the D2 loose into my bag (or even in a pocket also holding money or keys) as should the display be damaged the whole thing would be useless. There are a number of aftermarket cases available – including a transparent hard plastic one, which you currently get free if you buy from Advanced MP3 Players – and I'd recommend anyone who doesn't intend keeping their D2 on a pedestal should pick one up.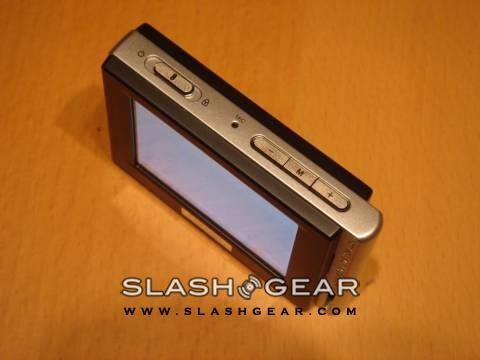 Of course, the overruling aspect of a PMP should be the sound quality, and here Cowon deserves more than a little respect. As ever, bin the included headphones (which aren't as bad as some, but still don't do the D2 justice) then busy yourself loading the D2 up with MP3, WMA, Ogg Vorbis, FLAC, APE, WAV and AAC files. It's an impressive compatibility list, and Cowon have included an impressive amplifier to go with it: 74mW, making it one of the most powerful on a portable player, and capable of driving headphones in excess of 100 Ohms impedance. Thankfully, with all that power there's audio finesse, too; delicious, crisp and thundery basses, clean trebles and mids, and no background hiss to speak of. Throw in the eminently tweakable EQ settings – six presets and space for one of your own – and the sound processing (which has been licenced from pro-audio manufacturer BBE Sound Inc.), all of which can have their multiple setups stored in one of ten overall presets, and there's the double whammy of great untreated sound and then great ways to treat it.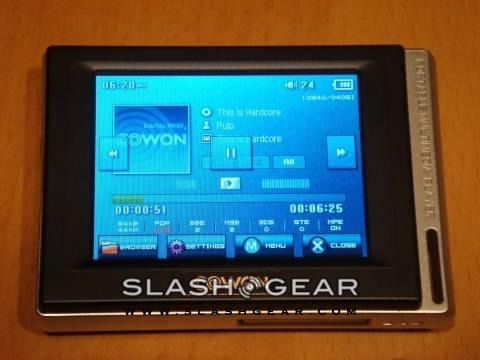 DAB radio relies on the connected headphones to work as an aerial, but proved adept at grabbing a decent signal despite movement in and outdoors. It first autoscans for all available stations, building a playlist to choose from; if you change position significantly you might have to force a re-scan to get the best lock. Most stations transmit both some network information (for instance musical styles covered) and 'now playing' details, usually what show & presenter you're listening to, and sometimes individual track details. Useful, but the D2 sometimes has problems formating all that for the screen, leaving text overlapping or falling off the edge. Sound quality is good, although the fact that digital radio doesn't decline into vague fizzing interference and instead gobbles turkey-like with audio artifacts when the signal is less than stellar could see you switching to the FM radio instead. With that you get a 24-entry preset list and autoscan, as well as the ability to record radio either instantly or via a timer, but there's no RDS for station identification and reception is average compared to what DAB can manage.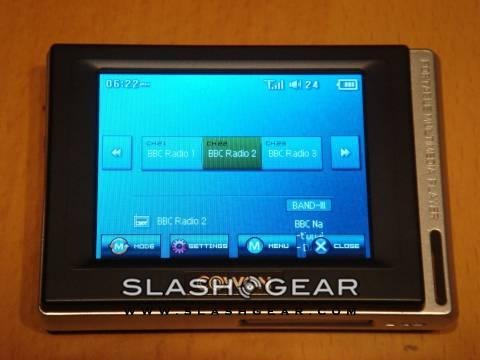 Despite a mere 2.5-inch screen, the D2 is a stunning video performer. It supports WMV3 and MPEG4 Simple Profile (e.g. DivX, XviD, etc) and can play files encoded at bitrates of up to 2,000kb/s. Sadly video must be 320 x 240 resolution, which means that despite the D2 showing up as an external drive, most clips will need to be converted before they can be dragged across. Cowon include their own JetAudio software to do that, although it leaves a faint company logo in the top corner, but overall it means that using the D2 for video requires preparation rather than last-minute organisation.
When in the right format, though, the results are stellar. The 16-million colour screen is crisp and bright, viewing angles are good and audio can be run through the same sound processing and EQ as music files. Cowon offer an aftermarket TV-out cable, although this wasn't part of my review package.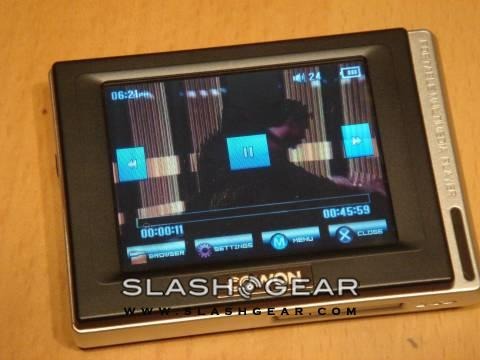 In terms of additional functionality, there's a voice recorder that uses a built-in microphone and, with the adaptor cable available as an optional extra, direct line-in recording. Considering the screen quality, it's good to see Cowon added a photo viewer, too; it only supports JPEGs but there's no size limit and images can be zoomed, rotated, moved around using the touchscreen and set up as a slideshow with background music. There's also an alarm clock, sleep timer, text viewer with a choice of fonts and sizes, and bookmarking for both audio and video files.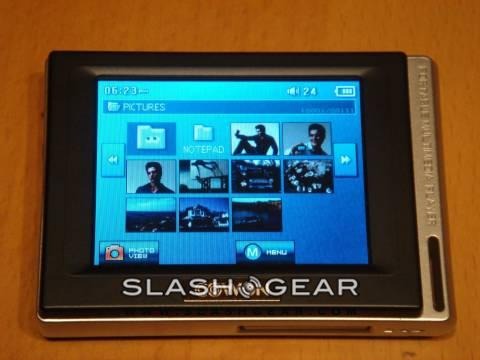 Perhaps most impressive is the D2's battery. Being non-user-replaceable earns it a black mark, but it redeems itself with a quoted 52hrs music playback or 10hrs video from a single charge. Real-world play showed it seemed most likely of any gadget I've tested recently to meet those specs, and it also recharged faster from the AC adaptor than the stated 3.5hrs.
If there's anywhere the D2 pales slightly, it's the interface – particularly when you're comparing it to, say, an iPod Touch. It almost seems as though the excitement of having a touchscreen has encouraged Cowon to make you touch it as much as possible: even straightforward tasks, such as skipping through tracks or changing EQ presets, demand three presses (one to activate the screen, one to bring up the options, one to select). It's a shame, as there are also thoughtful shortcuts such as scrolling through lists by flicking anywhere on the screen, and options and menus trigger instantly with no render lag. There's no shortage of on-screen information, either, which will either be a plus or a minus depending on your minimalist tendencies – ID3, EQ and processing settings, bitrate and sample rate, even the clock gets its own pixels as standard. Album art is also displayed.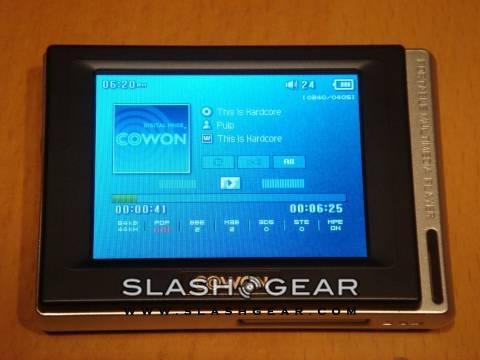 Frankly, though, that's a nit-pick; compared with the D2's incredible audio performance any less-than intuitive controls become a minor frustration. Actually listening to music is when you'll appreciate how much Cowon have packed into the PMP's small frame, and it even encouraged me to go back and re-rip old CDs at higher bitrates. Cowon also seem to be on the ball in terms of software updates, too, with new firmware builds regularly released that, according to the user community, actually have a noticeable effect on functionality and performance. If you can resist the lure of the iPod, and musical clarity is your lodestar, then you won't be disappointed with the D2.
Many thanks to Advanced MP3 Players for the loan of the Cowon D2; the 4GB model I tested retails at £169.99.
[rating:4.5]