Cover your Apple Watch with real gold for a few hundred bucks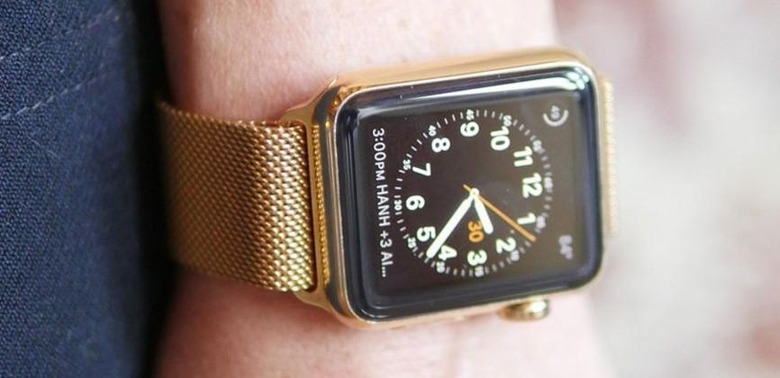 Just over week ago we told you the story of how one YouTuber saved himself a whole bunch of moolah by making his Apple Watch Sport gold with only some creativity and a can of spray paint. But what to do if you actually want the luxury of a real gold Apple Watch but can't afford the $12,000 Edition model? The answer is WatchPlate, a company that will add 24 karat gold to your stainless steel Watch for only $399.
The service comes from a California company that got its start by customizing guitars and motorcycles. WatchPlate says their process involves submerging your Watch in 3 inches of fluid for around 20 minutes, so be ready to kiss your warranty from Apple goodbye. Only three days after they receive your Watch, it will be left with a coating of gold 35 microns thick, said to be well over the average of 20 microns found on most durable gold plating.
Options include the choice of rose-gold, as well as gold plating one of Apple's metal Watch bands for no extra cost. So a purchase of the cheapest stainless steel Apple Watch at $549, plus WatchPlate's treatment, will give you a real gold smartwatch for only $948. Including the cheapest Watch model that comes with the metal Milanese Loop band ($649) will set you back just over $1,000 in the end.
These prices are much easier on the wallet than the official Edition model from Apple. And in comparison with the $2,800 repair cost that goes with the real thing, WatchPlate offers a retouching treatment for only $199. Just remember to buy at your own risk if you are an Apple Watch owner looking to add a bit more luxury to your device.
VIA Mashable
SOURCE WatchPlate