Cosmonaut Pavel Vinogradov becomes world's oldest spacewalker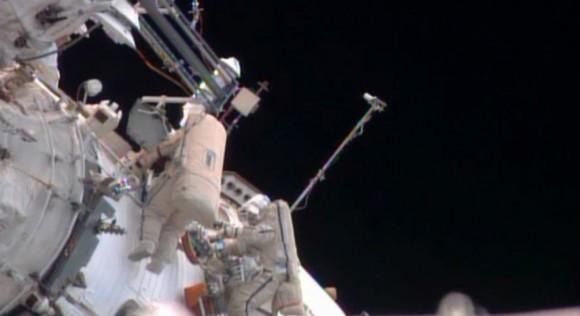 NASA is live-streaming a spacewalk right now, which involves two cosmonauts going out into the deep, dark space in order to fetch some equipment off the exterior of the International Space Station. One of those men is Flight Engineer Pavel Vinogradov, who is 59 years old and is now the oldest person ever to go out on a spacewalk.
Vinogradov is working with Flight Engineer and Cosmonaut Roman Romanenko to replace a broken reflector, as well as retrieve and install experiment equipment on the exterior of the station. Up until today, the oldest person to perform a spacewalk was now-retired NASA astronaut Story Musgrave, who was 58 when he helped fix the Hubble Space Telescope in 1993.
Vinogradov has been a cosmonaut for 20 years and today's spacewalk is his seventh so far. is making his seventh spacewalk. His first-ever spacewalk took place in 1997 aboard Russia's old Mir space station. Vinogradov will turn 60 aboard the space station this summer, as he's been assigned for six months up on the ISS.
What's perhaps most interesting is that Vinogradov's partner during today's spacewalk, Romanenko, is experiencing his first spacewalk ever. Romanenko, who is 41, follows in his father's footsteps, Yuri Romanenko, who went to space in the 1970s and 1980s. The young Romanenko joked that he is "afraid of the darkness," as the two cosmonauts stepped outside the ISS.
[via FOX News]