Cortana Play My Emails For Outlook On iOS Lands With Masculine Voice Option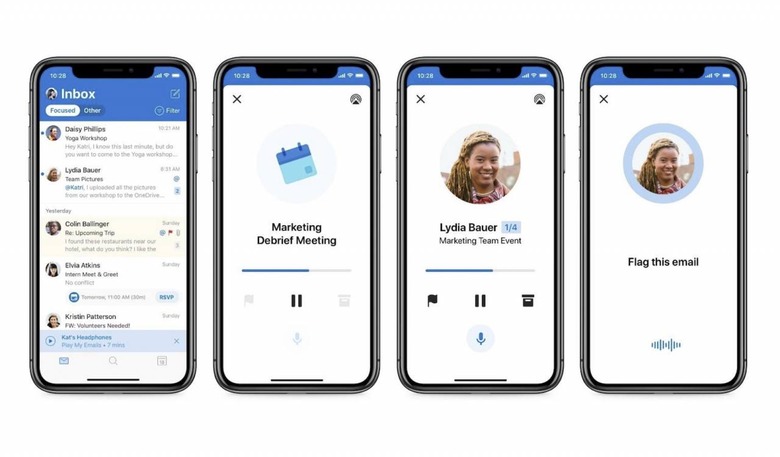 Cortana is about to get a lot more chatty, with Microsoft launching a new Play My Emails feature for its assistant at Ignite 2019 today. The new Outlook mobile feature is joined by a new voice for Cortana, adding a masculine option to the existing feminine voice the assistant first debuted with.
The second voice option arrives as Microsoft makes Cortana more natural in how the assistant speaks in general. Both the masculine and feminine voices now use the Neural Text to Speech capabilities, so that they can mimic the intonation and stress patterns humans generally include in their spoken language.
You'll be hearing that plenty, too, if you get a lot of email. Play My Emails effectively does just what the name suggests, Cortana reading out new messages as they arrive in your inbox. The assistant can also share any changes to the day, as well as allow you to respond to emails without having to touch your phone.
It's all part of what Microsoft calls its "voice-forward" approach to functionality. We've seen the software giant hit on that idea several times over the past few years, focusing on how Cortana can use artificial intelligence, machine learning, and leveraging combining different data sets – like your email, your calendar, and the availability of other people you communicate with – to minimize just how much users have to do manually.
For the moment, only iOS users will get to use the new Play My Emails feature, however. It's rolling out to Outlook for iOS from today, and initially only to users in the US. Microsoft says that it expects to launch the feature on Android in Spring 2020, however. The update will be pushed out via Apple's App Store, and you'll be able to use it with headphones by hitting the play button to start Cortana off on your messages.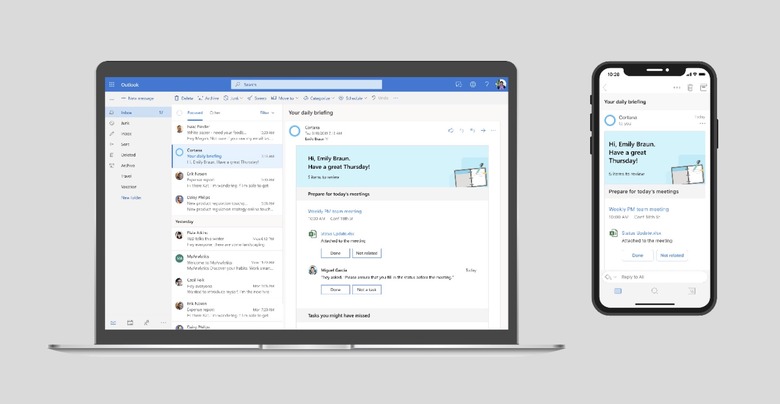 The other new Cortana feature of note at Ignite today is a preview of personalized experiences around scheduling. Cortana will be able to spot commitments made via email but which might not have made it to your calendar, and then send out a "Briefing" email in the morning to remind you that something is coming up. That message will have both a way to mark those emailed promises as "done," and to book focus time. The briefing emails will be available in preview in the US in a few weeks time, Microsoft says.
Then there's scheduling meetings. With the new Scheduler, by including Cortana in an email invitation to meeting participants – and giving some natural language guidance as to what you might need, like a time everybody is available at, or a room booked – the assistant will automatically respond accordingly.
If, for example, you're inviting colleagues to a meeting and have access to their calendars, Cortana will be able to book it in when everybody has overlapping availability. If the meeting is with people outside of your organization, meanwhile, Cortana will suggest a selection of possible times; recipients will be able to negotiate those down, using natural language responses.