Corsair have announced a new 850W power supply intended for gamers and overclocking enthusiasts.  The Corsair TX850W is built using industrial grade components and can operate at 100-percent load at an ambient temperature of 50-degrees centigrade.  It also has a dedicated +12V rail that can deliver 70A (840W); that's a full 98.8-percent of the PSU's total output.
Despite all that, the TX850W apparently manages in excess of 80-percent energy efficiency, with Corsair going so far as to call it whisper-quiet thanks to a temperature-controlled 140mm fan.  Four extra-long 6+2-pin PCI-E cables are provided, and the PSU is compatible with both NVIDIA's SLI and ATI's Crossfire.
Slotting in at the top of Corsair's TX range, which also includes 650W and 750W models, the TX850W is available now.  It comes with a five year warranty and is priced at around $135.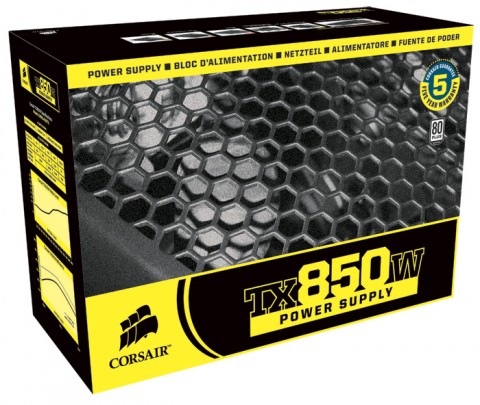 Press Release:
Corsair launches 850 watt power supply for gamers and PC enthusiasts

Corsair TX850W offers dedicated 70A +12V rail and SLI/CrossFire support, setting a new standard for high-quality, affordable power supplies

Fremont, CA, December 18th, 2008 – Corsair®, a worldwide leader in high-performance computer and flash memory products, today announced the launch of the Corsair TX850W power supply unit (PSU), the latest addition to the award-winning TX-series of high-quality PSUs.

The TX850W has been designed by Corsair and engineered to meet the demanding requirements of PC enthusiasts, creative professionals and gamers. The TX850W is built using Industrial Grade components to ensure clean and stable voltages, and has been qualified to operate at 100% load at an ambient temperature of 50ºC for unmatched reliability.
The Corsair TX850W boasts a dedicated +12V rail capable of delivering 70A (840W), which equates to 98.8% of the PSU's total power output. This makes it ideal for high-end graphics cards and multi-core CPUs, such as the latest Intel Core i7-series, all of which require high amounts of stable power at 12V.

"Corsair's TX650W and TX750W PSUs have led the market in terms of offering superior quality at affordable prices," said Jim Carlton, VP of Marketing at Corsair. "The TX850W raises the bar even further by offering even more power while retaining the unmatched standards of quality that has led to Corsair recently being voted 'Best PSU Manufacturer' for the second consecutive year."

In addition to high power output, the TX850W offers greater than 80% energy efficiency, resulting in less heat, less noise and lower electricity bills. The high-quality, temperature-controlled 140mm fan provides effective cooling at whisper-quiet noise levels under typical conditions.

Four 6+2-pin PCI-E cables are provided and the TX850W has been thoroughly tested for compatibility with NVIDIA® SLI® and ATI® Crossfire® solutions. The TX850W also boasts extra-long cables to support full tower chassis.

The Corsair TX850W is available immediately from all good stockists, and is backed by a 5-year warranty and comprehensive customer support via telephone, email, forum and the Tech Support Express helpdesk.

About Corsair
Founded in 1994, Corsair Memory Inc. is a worldwide leader in high-performance components for personal computers. Specializing in very high performance memory and ultra-efficient power supplies, our flagship products, including DominatorTM memory modules, are the choice of overclockers, enthusiasts and gamers everywhere. Our expertise in design and manufacturing is also evident in our complete line of ruggedized Flash VoyagerTM and Flash SurvivorTM USB storage devices. Corsair Memory offers 24/7 customer support via forums and Tech Support Express helpdesk . For more information, please visit www.corsair.com