It's time to dive back in on one of the biggest up-and-comers in the straight-to-consumers gaming peripherals game: Corsair. With the Corsair STRAFE, users work with the same high-quality mastery in mechanical keyboard clicking as the rest of the recent Corsair Gaming RGB light-up series, but here the options – and therefor the price – take a cut. You still get the high-end German-made quality of Cherry MX switches, of course. If you like lights, but you don't need the full rainbow, this chop of a keyboard might be right up your ever-loving red-lit alley.
This is the first new ID in the mechanical keyboard lineup with Corsair since 2011. It's re-engineered using the newest techniques in manufacturing optimization to cut the cost while retaining the high-end production value and mechanics.
Here we've got much of the same hardware as we've seen and worked with in the K95 RGB, K70 RGB, and K65 RGB Gaming Keyboards, but with a slight change of heart in the eye candy department. You're still lit up, but you're only lit up with red lights under each key instead of a full RGB choose-your-color full spectrum.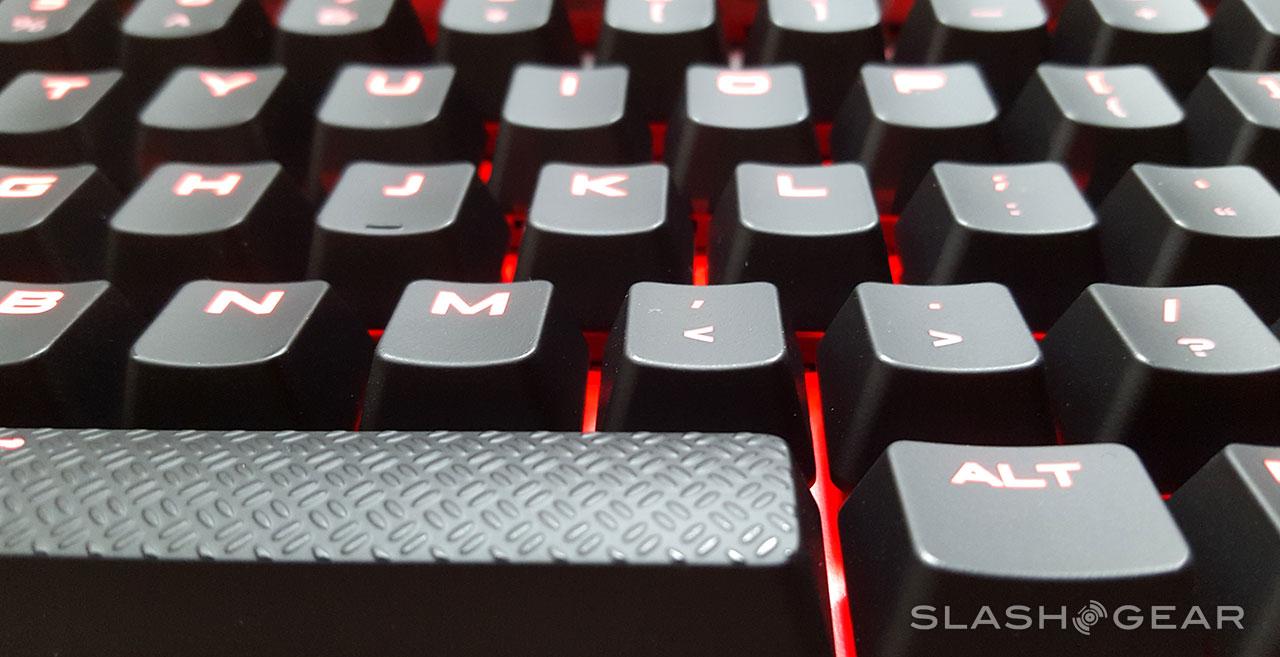 For more information on the rest of Corsair's keyboard collection released earlier this year, have a peek at our K95, K70, and K65 RGB Gaming Keyboards review.
There aren't nearly as many bits and pieces to work with in the software, but you DO still get Power of CUE abilities – as you'll see in the moving image here.
This keyboard comes with the option of either Cherry MX Red or Cherry MX Brown switches, so you know you're working with precision-engineered hardware. As you can see in the hero image of this article, each key has its own unique light – each key can feel extra special and unique as a snowflake.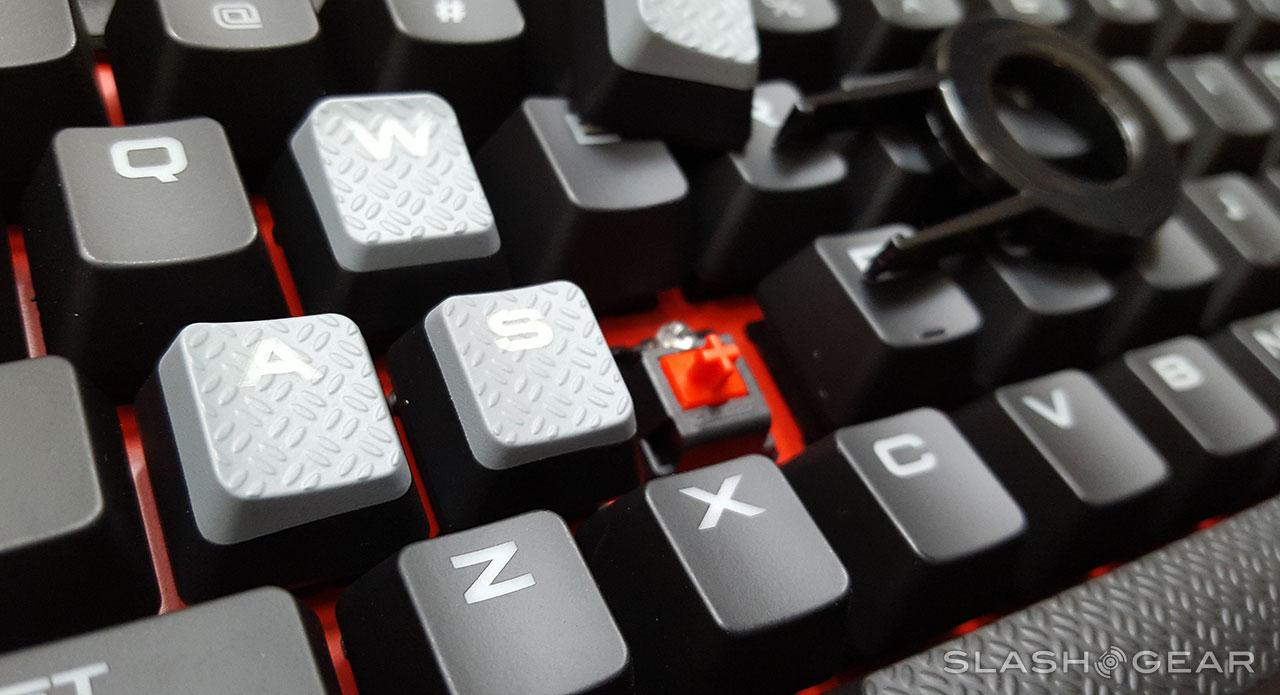 In the box you'll get a set of FPS and MOBO keycap sets with textured tops along with a keycap puller. The space bar comes textured right out of the box.
Corsair provides "100% anti-ghosting" with 104-key rollover on USB. This means you can tap the keys as fast as you like without missing a single registry. We've had no missed blasts to heads that we could perceive thus far.
While this keyboard can provide all of its hardware finesse to most computers, some compatibility requires that you use a machine with Windows 10, Windows 8, or Windows 7 at minimum. You'll also need at least one USB port, or 2x USB ports if you want to use the keyboard's USB passthrough abilities.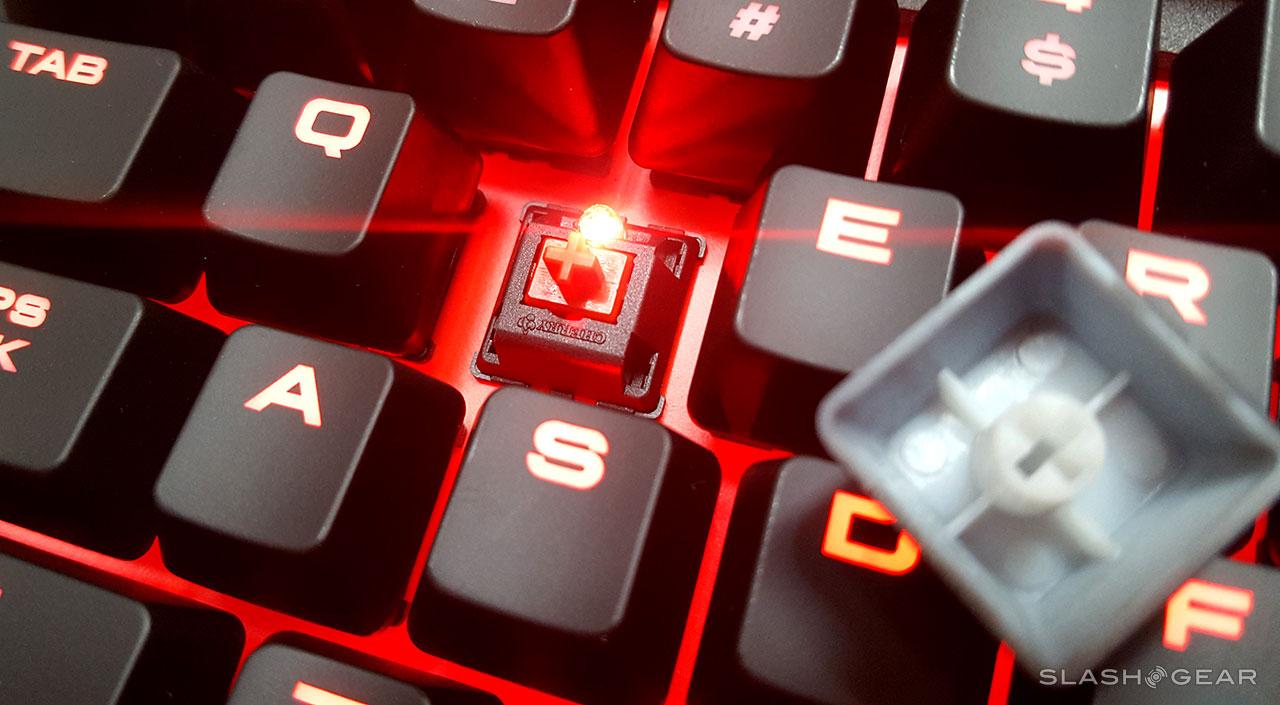 This keyboard is perfect for users that want a perfect blend of high-end gaming mechanics and just-enough flare (but not too much) with red per-key backlighting and effects programming. Full anti-ghosting with built-in smart circuitry and Cherry MX switches make this a perfect sweet spot gaming keyboard for everyone from the average at-home hardcore gamer to the gaming pro.
This model costs right around half as much as the comparable RGB model (K70 at $200 USD), with a price of $110 USD this week via NewEGG, Amazon, and Corsair online.