Corsair HX650W Pro series modular PSU arrives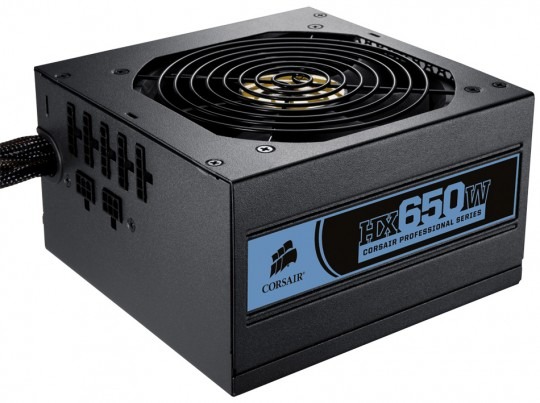 Corsair more typically show up on these pages for their SSD offerings, but that doesn't mean they aren't beavering away on other devices elsewhere.  A good example is the Corsair Professional Series HX650W modular power supply, successor to the HX620W, and promising to be the best option for those building an Intel Core i5 or Core i7 PC.
That's a bold claim, and to back it up Corsair have stuffed the HX650W with industrial-standard hardware delivering 96-percent of the PSU's total power output on a single 52A +12V rail.  In the box, Corsair include a selection of flat, modular cables from which system builders can pick and choose; that way, you don't have to find a hiding place for all the unwanted connectors, spare molex plugs and other cords you'd generally have hanging from a PSU.
Those connectors include four PCI Express plugs, making the HX650W capable of dealing with even a quad-graphics workstation.  The Corsair HX650W is available now, with a street price of around $130.
Press Release:
Corsair® Launches 650 Watt Professional Series Modular Power Supply

- Successor to the critically-acclaimed HX620W delivers even higher performance -

FREMONT, Calif., Sept. 15, 2009 — Corsair®, a worldwide leader in high-performance computer memory, power supplies and flash memory products, including solid-state drives, today announced the launch of the Corsair Professional Series HX650W modular power supply.

The HX650W joins the multi award-winning HX750W, HX850W and HX1000W as part of Corsair's Professional Series of PSUs, all of which feature a comprehensive low-profile modular cable set, minimal noise levels, ultra-high efficiency, and the highest component quality and performance on the market.

"The Corsair HX650W is ideal for enthusiasts and gamers who are looking for a highly efficient, quiet, modular power supply, but don't need the higher wattages offered by the other PSUs in the Professional Series" said Jim Carlton, VP of Marketing at Corsair. "The HX650W offers the same unmatched quality standards and 7 Year warranty, but at a power level more suitable for mid/high-spec PC builds, such as those based on Intel's Core i5 and Core i7 'Lynnfield' processors."

The Corsair Professional Series HX650W uses industrial-grade components, ensuring stable, clean and reliable voltages, and delivers the vast majority of its total power output (96%) on its single 52A +12V rail. This is essential for reliably powering today's PCs with multi-core CPUs and graphics cards. The Professional Series HX650W is also tested and guaranteed to operate at 100% load at an ambient temperature of 50°C, guaranteeing stability and reliability no matter the conditions.

The Corsair Professional Series HX650W features a sophisticated, energy-efficient circuitry design that ensures maximum energy savings and minimal heat generation. This highly efficient design meets 80 PLUS BRONZE certification standards, ensuring a minimum efficiency of 82%, and typical efficiency of 85%.

The Corsair Professional Series HX650W also boasts an innovative cabling configuration that uses flat modular cables — including 4 x PCI Express connectors for SLI and CrossFire configurations — that help maximize airflow through the chassis. The modular design also simplifies installation as it allows you to utilize only those cables that are needed.

An image of the Corsair Professional Series HX650W is available here.

For more information about the Corsair Professional Series HX650W modular power supply, please visit corsair.com/products/hx650/.