Corsair Dominator 8GB and 12GB kits for Core i5 and i7 systems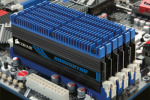 If you like your memory fast and you like it patriotic, then Corsair's latest Dominator chips may tick your boxes.  The company has revealed its new 8GB and 12GB memory kits for Intel Core i5 and Core i7 systems, each with DHX+ cooling technology and "American Racing Blue" fins and highlights.
The memory also have their XMP profiles set at 1600MHz, with CAS latency settings of 8-8-8-24. According to Corsair, systems using the RAM kits and running Windows 7 demonstrated "substantial performance gains in system startup, shutdown, context switching, and game loading"' you can find their full results here [pdf link].
The dual channel configuration (CMD8GX3M4A1600C8) comes with four matched 2GB modules, and is optimized for P55 motherboards, while the triple channel configuration (CMD12GX3M6A1600C8) consists of six matched 2GB modules, optimized for X58 motherboards. Each also includes a color-matched Airflow fan.  No word on pricing, but we can't imagine these will be cheap ways to add memory.