Corning USB 3.Optical Cables capable of 5Gbps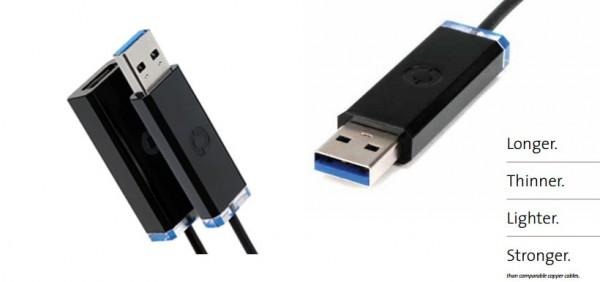 Corning has unveiled a new high speed data cable that it calls the USB 3.Optical Cables by Corning. These cables are capable of high data transfer speeds over a longer distance than copper cables can achieve. Corning says the optical cables can support transfer speeds up to 5 Gbps over a distance of 30 meters.
These optical cables are compatible with most USB 3.0 and USB 2.0 devices. The 30 meter range the optical cables are capable of supporting are ten times that of the 3-meter limit on comparable copper cables. Corning first unveiled its optical cable line in January 2013.
The line also includes an optical Thunderbolt cable. In addition to supporting longer transfer distances, the USB 3.Optical cables are also up to 50% thinner and 80% lighter than comparable copper cables. Corning also touts the cable's zero-bend radius that allows them to survive being bent, squeezed, and tangled with damage or loss of function.
Corning is currently producing USB 3.Optical Cables in lengths of 10 meters with A-to-receptacle-A ends with different connectors to change the form factor to suit the purpose. Connectors are available for B or micro B devices. Corning's optical USB cables are available now via Amazon and other retailers with prices starting at $129.
SOURCE: Corning