Thunderbolt Optical Cables by Corning are first all-optical fiber offering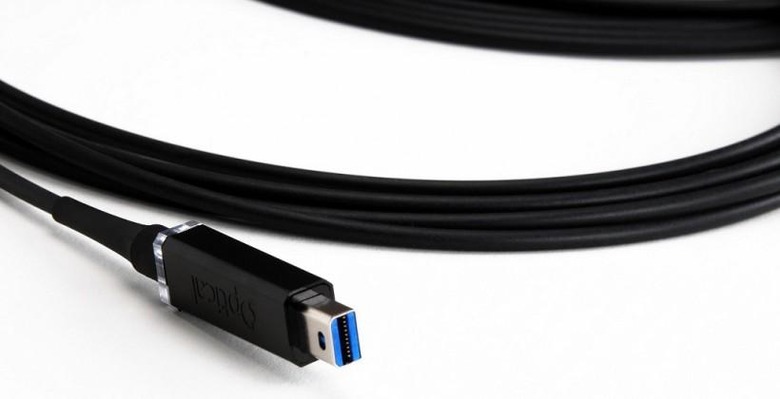 At the Intel Developer Forum in San Francisco this week, Corning has announced that it has been granted an Intel certification for Thunderbolt Optical Cables by Corning, the first all-optical fiber Thunderbolt cables. According to the company, the optical fiber cables support both Thunderbolt and Thunderbolt 2 protocols and will be available "in the coming weeks."
Said Corning, its Thunderbolt Optical Cables have "undergone [a] rigorous certification process", and that the product will be available in cable lengths starting at 10 meters. Unlike commonly available copper Thunderbolt cables, these optical fiber cables are said to be 80-percent lighter and up to 50-percent smaller in diameter, made of noise-reducing and electrically-isolated cables.
Said Corning's Product Line Management Vice President of Optical Connectivity Solutions Bernhard Deutsch: "Based on Intel's Thunderbolt protocol, Corning is providing a fast, innovative cabling solution designed for data-intensive connectivity. Thunderbolt Optical Cables by Corning empower users to quickly access and move data between devices at distances copper cables cannot."
The company didn't say when precisely consumers will be seeing the cables available for purchase, only that it will be "in the coming months" via various distributors, online, and through "select resellers." In the meantime, Corning will be showing off the optical fiber cables at IDF, giving demonstrations of speed, durability, and other such factors at its booth.