CoPilot Live HD offers turn-by-turn navigation for iPad 3G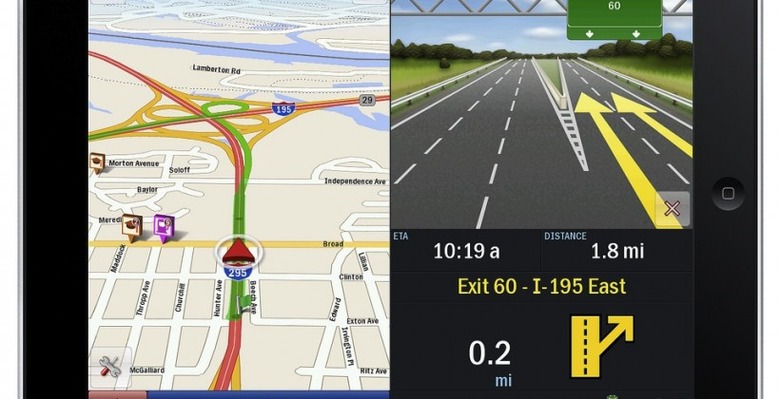 With the iPad WiFi + 3G already en route to preorder customers' homes, it seems somehow appropriate to hear about a PND app for the Apple tablet.  CoPilot Live HD is expected to navigate its way onto the 3G-equipped iPad – which also has a GPS receiver – sometime in early May, offering turn-by-turn navigation, 3D and 3D mapping, and in-app access to iPod music controls.
Frustratingly for early-adopters who couldn't wait and opted for the WiFi-only iPad, the 3G connection isn't actually necessary: mapping data is all locally stored, and CoPilot Live HD only needs the GPS chip that's not present in the normal iPad.  As well as navigation there's in-app local search and real-time weather information.
ALK Technologies have submitted CoPilot Live HD to Apple for App Store approval, so until it shows up in iTunes you'll have to sate yourself with this huge gallery of screenshots.  When it's finally available it will be priced the same as the regular iPhone version, with no ongoing subscription fees.
Press Release:
CoPilot® Live HD™ navigates to the iPad 3G

Hi-resolution edition of the award-winning CoPilot Live sat nav app brings the ultimate in-car navigation experience to the Apple iPad 3G

April 29th 2010 – London, UK – ALK Technologies today announced that it has submitted CoPilot Live HD to the app store, a turn-by-turn satellite navigation and trip planning app designed specifically for 3G models of Apple's iPad. With street maps stored on the device, CoPilot Live HD takes full advantage of the iPad 3G's in-built GPS receiver and high resolution touch screen to provide the ultimate large-screen voice-guided navigation experience.

CoPilot Live HD makes it easy to find the way in-car or to plan a trip in advance with beautiful hi-resolution maps and graphics. A new split screen driving view combines uncluttered 3D or 2D map displays with clear, non-distracting turn instructions. As with CoPilot Live for iPhone, the HD edition auto-switches between portrait and landscape, uses pinch-zoom functionality and offers access to iPod music controls from within the app.

Initially launched in North America to coincide with the U.S. release of GPS-enabled iPad 3G models, detailed street-level maps are stored directly on the iPad. Customers do not need to download maps for each trip or worry about being left stranded without maps in mobile dead spots. Apps for additional regions will be launched as the iPad 3G becomes available worldwide in coming months.

More than just turn-by-turn navigation, CoPilot Live HD's powerful offline trip planning and route preview features allow travellers to plan door-to-door itineraries on their iPad before they hit the road. Users can enter multiple stops for a single journey and optimise to calculate the most efficient route. Advanced features include integral access to local search, real-time weather information, and the ability to create customised routing profiles that best suit personal preferences.

"CoPilot Live HD provides an absolutely sensational GPS navigation and planning experience on iPad 3G," said Michael Kornhauser, Managing Director at ALK Technologies. "Developing for iPad was a natural step following the tremendous popularity of our CoPilot Live iPhone app. It's a really fantastic platform for navigation that allows us to fully exploit the many years of expertise we have gained from supporting tablet computers with our CoPilot Live Laptop products."

CoPilot Live HD North America has been submitted to the appstore for approval, and is expected to be available to buy for iPad 3G in early May. Pricing will be the same as for the CoPilot Live iPhone app with no ongoing fees or subscriptions.