Contra Anniversary Collection detailed: The games list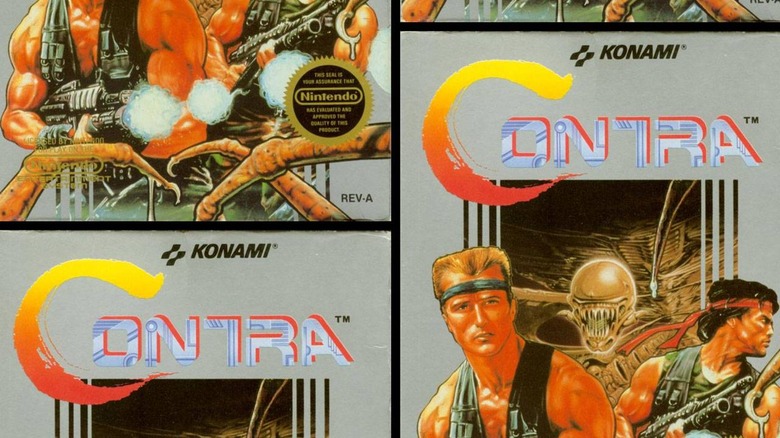 It was a strange time in video game history when Contra first hit NES. International rules forbade content of too violent a nature – if it contained humans – and all blood was highly, highly pixelated (no matter where you lived). Now, here in 2019, for the first (official) time ever, Konami's prepared the entire history of one of the most classic running and gunning games of all time.
The Nintendo Entertainment System edition of Contra, Contra from your local arcade, Super Contra, and Operation C (released only on Game Boy) – all are welcome. In an announcement with IGN today the entire lineup was revealed.
The full Contra Anniversary Collection lineup of games includes what follows. First you'll find the games that were originally released in the United States.
Contra Anniversary Collection USA games, in box:
• Contra: Arcade
• Contra: NES (Nintendo)
• Super Contra: Arcade
• Super C: NES (Nintendo)
• Contra III: The Alien Wars: SNES (Super Nintendo)
• Contra: Hard Corps: Sega Genesis
• Operation C: Game Boy (handheld)
International titles (also in box):
• Contra: Famicom (Japan)
• Probotector (Europe)
• Super Probotector: Alien Rebels: SNES (Europe)
Contra Anniversary Collection Japan games (download):
• Contra: Arcade
• Super Contra: Arcade, aka Super Contra: Alien No Gyakushu
• Super C aka Super Contra
• Contra III: The Alien Wars aka Contra Spirits
• Operation C aka Contra
• Contra: Hard Corps aka Contra: The Hard Corps
The entire collection includes not just the USA versions of the game, but a couple of Euro titles (PROBOTECTOR!) and Contra from Japan – AND a Japan-centric update. The update includes all six titles above, for a grand total of 16 different games. NOTE: When I say "in box" I just mean "with the initial download set" as it were. Unless you're buying this in a physical box set – which might well also be a possibility.
I mean, once you get going there's not a WHOLE lot different from one game to the next, when it comes down to it. You're shooting guns and blowing stuff up.
The Konami collections of old school games continue to excite. If you're a completist, now's the time to jump back in on Castlevania, too. You might just want to skip the Konami Arcade Collection until its revisited – they're just getting good at this all-in setup just now.
This newest collection, with Contra, will be released at some point "this summer." It'll be released on several platforms, including PC via Steam, PlayStation 4, Xbox One, and Nintendo Switch. Pricing on each platform may vary – but will likely be right around $20 USD.