Conran Audio Speaker Dock packs apt-X Bluetooth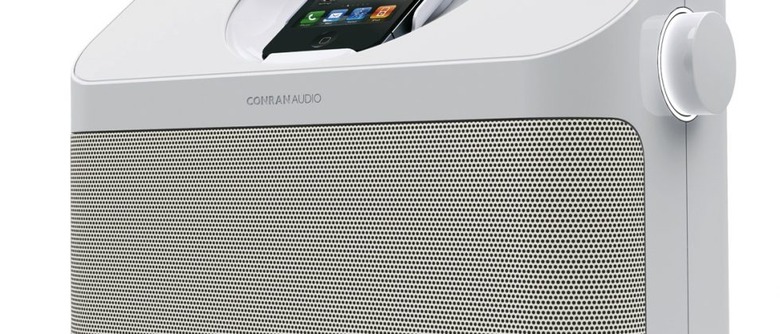 Pale wood?  Check.  Slick, minimalist lines?  Check.  Fashionable compatibility with your iPhone/iPod?  Check.  This new iPod speaker dock is perfect for the Conran Shop, which is handy because it's actually designed by Studio Conran itself.
It's not entirely clear how much of a hand Sir Terence Conran has had in the design of the Conran Audio Speaker Dock, but it certainly looks the part.  As well as a niche on top for your iPhone or iPod touch, it has Bluetooth built in for wireless streaming from compatible PMPs and handsets.
There's also a remote control that can be stowed in a nook at the side, and apt-X compatibility for Bluetooth devices that support the higher-quality codec.  The dock assembly itself can rotate for portrait or landscape use.  It's available now, priced at £250 ($395).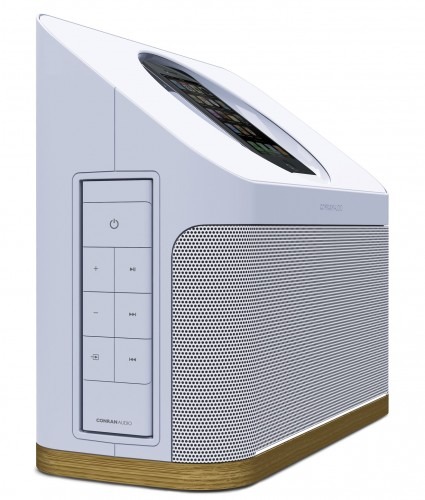 Press Release:
NEW BRAND – GREAT HERITAGE 'CONRAN AUDIO' DEBUTS WITH iPOD SPEAKER DOCK

Armour Home is proud to introduce a completely new brand, 'Conran Audio', together with its first product, the Conran 'Speaker Dock' for iPods and iPhones.

Great design is difficult to define, but when you see it, you instinctively know something is just right. A creation of Studio Conran, this new speaker dock is just such a product, combining an elegant design aesthetic with a stunning audio performance engineered by Q Acoustics. Its appearance achieves the seemingly conflicting goals of both harmonising with any décor whilst simultaneously projecting just the right amount of individual design flair to make you smile every time you look at it.

Describing the new model, Sir Terence Conran, a leading figure in British design for more than fifty years, stated: "It is a dedicated 100% pure music player, that works with docked iPhones and iPods or wirelessly with Bluetooth enabled devices such as the iPad, allowing you to select songs from the comfort of an armchair or, if it's your thing, while dancing around the room."

Sir Terence concluded: "We hope we have created a contemporary design classic."

Glenn McClelland, Armour Home's Managing Director added: "We've had a very successful partnership with Studio Conran for a number of years. They design beautiful models for our Alphason furniture range and we have been so impressed by their work, 'Conran Audio' seemed an obvious and logical progression. I must say everyone at Armour is absolutely delighted by the result. We are all very confident about the success of this product."

Ready for 'apt-X' quality Bluetooth Stereo

In addition to its ability to play "wired audio" from physically docked iPods and iPhones, the Conran Audio speaker dock can also play 'wireless audio' streamed remotely from Bluetooth Stereo (A2DP) enabled portable media players, tablet computers, smartphones and laptops. Furthermore, the Conran dock's in-built Bluetooth receiver chip is compatible with 'apt-X', the high-performance audio coding technology from CSR which transmits CD-quality full-bandwidth stereo over Bluetooth connections. 'apt-X' is fast becoming the next 'must have' technology feature in high-end consumer audio devices with pre-installed or dongle-enabled Bluetooth Stereo capability.

To enable users to view menus as they wish, the dock assembly rotates, allowing iPhones and iPod Touches to be docked in either vertical or horizontal mode. Additionally, the dock boasts six preset audio equalisation settings to optimise its performance for different musical genres. These are user selectable via the elegant remote control.

Price, availability and finish

The new Speaker Dock, which will be available in both white and black finishes, is expected to go on sale late January 2010, priced at £250 including vat at 20%.

Specifications

Frequency response: 75Hz – 20KHz

Loudspeaker Drivers: 2 x 75mm bass/mid

2 x 30mm tweeters

Power output: 2 x 15 Watts

Bluetooth Stereo (A2DP) + apt-X

Standby power consumption: < 1 Watt

Dimensions (WxDxH): 283mm x 120mm x 233mm