ComScore: Samsung rises as Android falls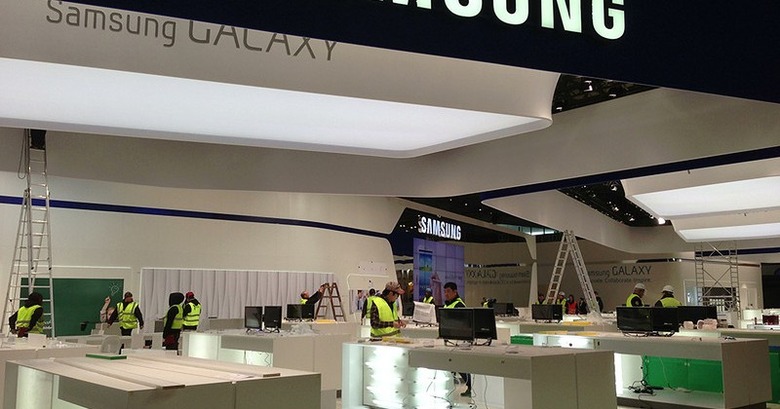 This month's ComScore results for Smartphone Platform Market Share and Smartphone OEM Market Share show first that Apple is rising while Android falls. That much is easy to see as the three-month average ending in January of 2013 is compared to the three-month average ending in October 2012 in the Smartphone Platform arena – Apple rose 3.5 percent in the market while Google (with Android) fell 1.3 percent. Next you'll find that in the Top Smartphone OEM list for those same two three-month periods, both Apple and Samsung grew – at the expense of HTC, Motorola, and LG.
What's not immediately apparent is the comparison you can make between the two charts, that being the fall of Google's Android on one hand and the continued rise of Samsung (using Android, mind you) on the other. While Samsung and HTC continue to work with Windows Phone 8 as well as, in Samsung's case, a tiny bit of their own home-made mobile OS, it's still Android that dominates their ranks.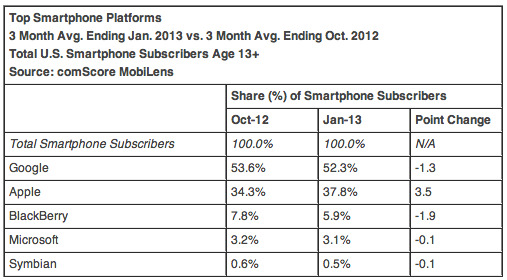 So once again we're able to pull out a conclusion that was spoken about more than once in the past few weeks: Samsung is growing at a rate that's not dependent on Google's Android mobile operating system. The first big blast of understanding in this came with an "interest over time" chart made by Benedict Evans run on Google search terms – it showed the brand "Galaxy" to be gaining steam at a rate much faster than Google's Android.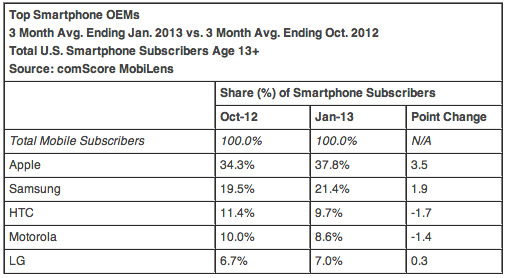 And now here in this ComScore report, we're seeing Google's total number of smartphone subscribers in the USA moving from 53.6% to 52.3% in the two three-month periods ComScore compares – a downward trend of 1.3 percent. Apple is the only entrant in this top 5 list that's gone up in the ranks – BlackBerry, Microsoft, and Symbian took a turn from bad to worse.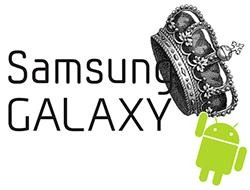 Meanwhile we see both Apple and Samsung rise in the manufacturing world, with Samsung's Galaxy line continuing to swallow up the market as a whole as Apple does with its iPhone lineup. Meanwhile the other three of the top 5 on this list sit below 10%, with LG being the only one to rise between these two 3-month periods, and only be a measly 0.3 percent.
So is this a perfect indicator that Google should be worried about Samsung eclipsing Android with their Galaxy lineup of Android-powered smart devices? Not exactly – but it's not beyond possible that these two trends are related. Keep your eye on these two titans through the near future to see how they continue to team up.
[via ComScore]