comScore has Android and iOS devouring mobile landscape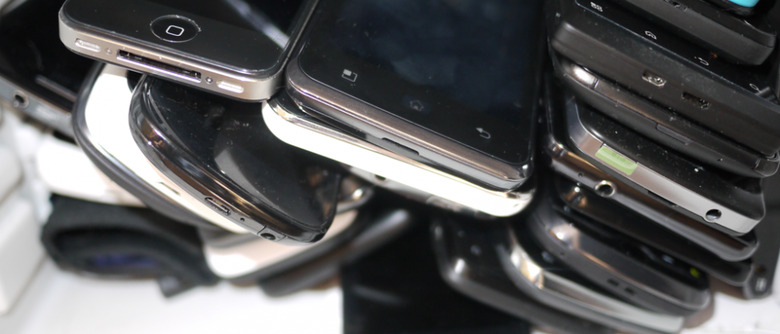 This week comScore has released its monthly numbers on who dominates the smartphone platform game in the USA, and it's Google's Android in the lead by a mile. This month has shown both RIM with BlackBerry and Microsoft with Windows Phone to be taking tiny dives with 3.2 and 1.3% losses in the market since February, RIM still sitting in the lead amongst the two at 13.4% to Microsoft's 3.9%. Apple sits in second place and has gained a 1.5% lead over last month's scores, and Symbian hasn't changed a bit – still sitting in the lowest position here with 1.5% of the mobile market.
These scores show that surprisingly Nokia's Symbian still does exists as a numerable portion of the market, but that such titans as Google and Apple just do not compare. Google is currently controlling 50.1% of the smartphones in the USA while Apple's iOS sits on 30.2% of the market – all of that on any number of different model iPhones alone. Google also had the largest point change positive at 3.2%, eating RIM's loss alive.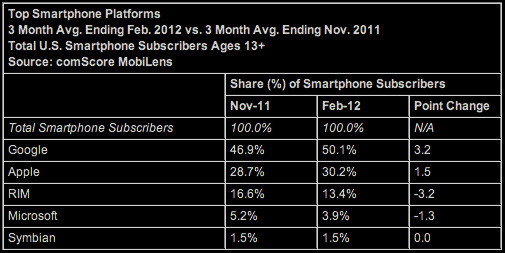 In addition to this, it appears that Samsung is the hardware leader amongst all USA mobile data subscribers, with LG in second, the former having 25.6% of subscribers and the letter coming in with 19.4% of the market. This part of the study includes feature phones, of course, or we'd expect the third place entry, Apple, to be higher on the list – they accounting here for 13.5% of all mobile subscribers in the USA.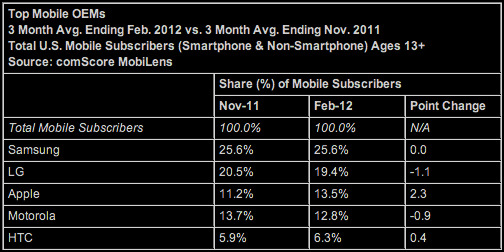 The folks at comScore also found that more than 104 million people in the USA owned at least one smartphone during December, January, February. That three month period beats the previous three month period by a whopping 14 percent. People are getting connected!
[via comScore]