According to the latest comScore Mobile Metrix ranking working with the audiences of the top mobile apps in the USA, Facebook has taken a relatively massive leap ahead of Google Maps through 2012 to become the top app in the USA. This listing includes polling of users aged 18 years or older on both iOS and Android devices with a time frame between March and December of 2012, and you'll find that this isn't the first month in which Facebook has taken the lead. Google Maps and Facebook have been nearly neck-and-neck since the earliest results from March of 2012, with Google Maps in the lead until September where usage of Google's mapping solution appears to take a bit of a fall off of a cliff while Facebook continues to steadily rise.
Of course when you measure Google's success in apps across the board, they're still doing extremely well for themselves. Have a peek at the top US Mobile Apps as ranked by comScore according to unique visitors (again, from polls of 18+ year old citizens on both iOS and Android) and you'll find that in December of 2012, Facebook still has the lead. It's Google though that holds every position from number 2 to number 6, YouTube and Gmail as well as Google Maps, Play, and Search included.
This set of polls also includes comScore's monitoring of time spent on Google and Facebook apps specifically, this accounting for Instagram (owned by Facebook) and YouTube (owned by Google) as well as Facebook, Google Maps, Gmail, and the rest. You'll find that the largest piece of the pie goes to "Other Apps" for those polled that don't actually find themselves on Facebook or Google apps all that much. After that though, It's all about Facebook taking the number one spot with 23% of the time users spend on their smart devices.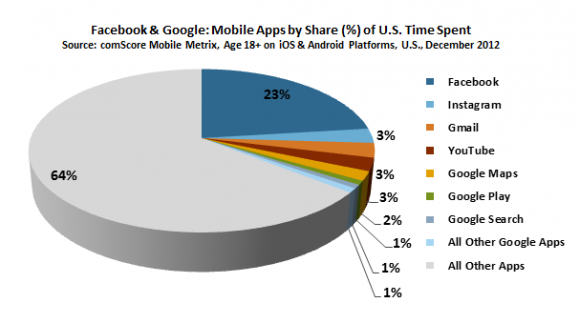 It's a tie between several other apps after that, with 3% of users' time being spent on Instagram, Gmail, YouTube, and Google Maps. An ever-so-slightly smaller amount of time is spent (2%) on Google Play, Google Search and "all other Google apps" get another 1% of the pie each, then it's that massive hunk for everything else in the universe. If there's one thing this set of charts shows us, it's that comScore wants to make it clear that both Facebook and Google are here to stay – in the mobile universe at least!
[via comScore]