Computer prices likely to soar as HDD costs rocket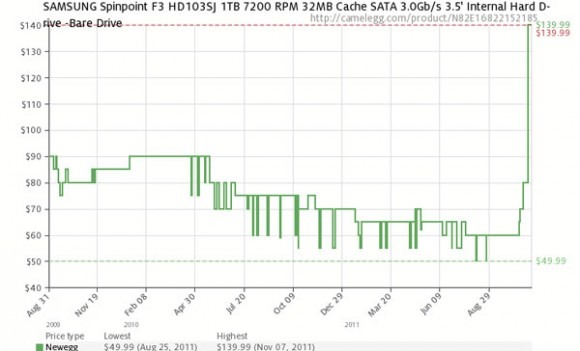 With all the flooding in Thailand the supply of HDDs for computers and other devices is quickly drying up. That means the HDDs that available are seeing prices soar. We already know Seagate is having serious shortages in supply of HDDs. All the shortages in the industry are driving prices up significantly across the board.
An example is the price of a Samsung Spinpoint F3 1TB 7200 RPM 3.5-inch HDD sold on Newegg. The price back in August before the flooding for this HDD was only $50 to $60. As of November, the price on that HDD has soared to $139.99 thanks to the shortage. You can bet that the computers out there using that HDD are seeing a more significant price increase than that add-in drive has seen.
I wonder if the price increase on the HDDs will make more people look to SSDs as an alternative. Even at the 180% price increase for that Samsung 1TB drive it is still much cheaper than the alternative SSD. I don't really see the shortage of HDDs driving more folks to similar capacity SSDs since the price gap is still very large.
[via Zorinaq]