CompUSA to return; this time with full Internet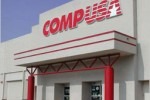 As you know, CompUSA went bankrupt a while ago and were sold to Systemax. However, the computer stores are slowly making a come back, but there are a few changes this time around. For instance, 30 new stores will open and they will all have an open Internet policy.
This policy will make it so shoppers are encouraged to use the Internet on the demo units for price comparisons and reading product reviews. Supposedly, customers will also be able to check regular websites as well like news sites and even Facebook.
This will help to set CompUSA apart from other computer stores like Best Buy which restrict which sites customers can surf to in-store. Actually, this move makes CompUSA quite similar to Apple retail stores. Prices will also be lower now that the company has lowered their overhead and there will be consistency amongst the prices posted on the TigerDirect website and in the CompUSA stores. This might be a really bad time to try to resurge a company but with the hole Circuit City made upon its departure, CompUSA just might have a fighting chance.
[via Electronista]