Saving Private CompUSA, TigerDirect Scoop Up The Rest Of Slim's Loses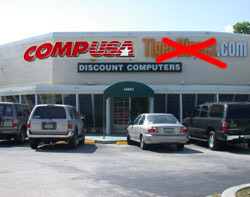 We thought Private CompUSA is going down along with hundred others brick-and-mortar brotherhood. Guess what, the company Systemax came to rescue! The heroic Tiger-Direct Special Unit managed to pull out the dying Private among with 16 others Carlos Slim's Infantry Division, but not without cost.
It appears compUSA will remain alive after all. Systemax, the parent company of TigerDirect, has acquired the rest of 16 retail stores from compUSA and the brand. They also plan to change the name of 11 existing TigerDirect stores to CompUSA and keep TigerDirect as online merchant only.
At least someone is picking up the trash, at the cost of $30 million dollars!
[via tradingmarket]