Compulab fit-PC3 squeezes AMD APU into tiny computer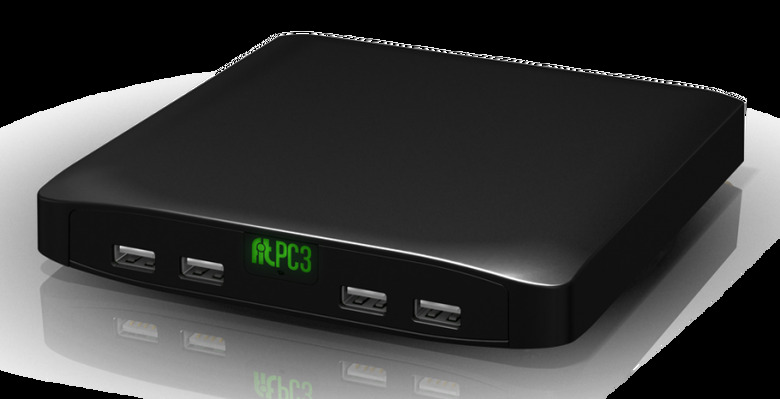 Tiny computer specialists Compulab have followed up on their Tegra 2 based palm-sized PC, the Trim Slice, with a new model using AMD's low-power APU. The fit-PC3 is a 16 x 15 x 2.5 cm fanless box packing a choice of single-core or dual-core processors running at up 10 1.6GHz, with as much as 8GB of DDR3 memory, two eSATA ports, HDMI, DisplayPort and gigabit ethernet connectivity, along with a bevy of USB ports.
In fact, there are two USB 3.0 ports and six USB 2.0 ports, along with stereo line-our and stereo line-in, Bluetooth 3.0 and WiFi b/g/n. The two entry-level models use Radeon HD 6290 graphics, with the two higher-end versions packing Radeon HD 6250 and Radeon HD 6320 graphics respectively. Each can output up to 1920 x 1200 over HDMI or 2560 x 1600 over DisplayPort, and the top-spec Pro model supports 3D over HDMI.
Room for an internal 2.5-inch hard-drive, along with a miniPCIe socket with mSATA support, handles storage. All four use less than 24W under load. Compulab will also offer an interchangeable FACE Module, swapping out the normal four USB front panel ports for an alternative set of connections, for instance a quartet of gigabit ethernet and four USB.
Smooth and ribbed cases are on offer, with various SKUs ranging from the bare basics (with no RAM) at $328 plus tax, up to a $698 model running Windows 7 Pro on a 1.6GHz dual-core G-T56N APU with 2GB of RAM, a 250GB hard-drive, both wireless options and the four USB front-panel.
[via iTechNewsNet]