Compaq CQ2000M nettop aka HP mini-Q hits Europe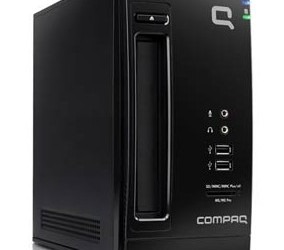 The HP mini-Q nettop which launched in Taiwan last November has shown up in Europe, in the shape of the Compaq CQ2000M.  Seemingly the same model as the mini-Q 2020, the CQ2000M promises both reasonable web surfing and basic app performance together with low power requirements.
The Compaq CQ2000M has a SuperDrive DVD burner, 1GB of RAM, Intel's Z230 1.6GHz CPU and a 160GB 7,200rpm hard-drive.  There's also 10/100 ethernet (no WiFi), a multi-format card reader, GMA950 graphics with a single VGA output and Windows XP Home.  Full specs here [pdf link; French language]
According to a scan of a French catalog, the Compaq CQ2000M will retail at €349 ($441) complete with a 20-inch LCD monitor.  Still no word on a US release, however.
[via Netbook 3G]