Companies Leaving Trump Today Get Big Boost (UPDATE: Trump Ends Councils)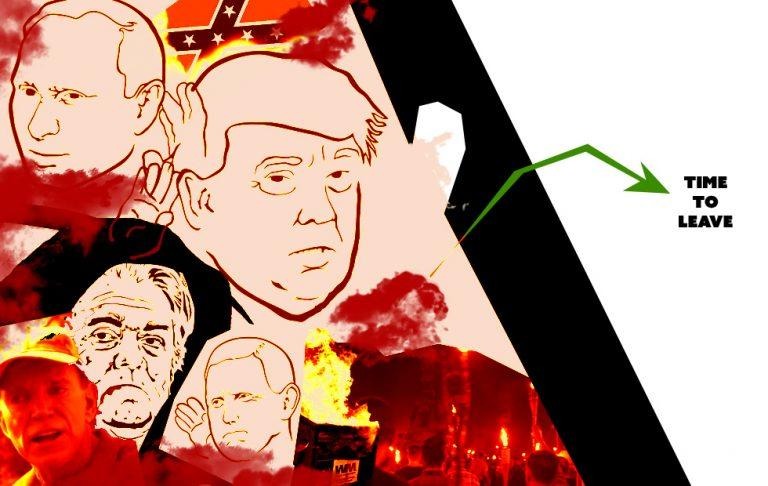 Now's your chance, brands – a study released this morning on Brand Influence showed that leaving Trump's councils had a positive effect on their public image. This includes Intel and Under Armour this week – both having left a manufacturing council made for Trump. The companies that remain on Trump's various councils must be seriously considering their position and legacy right this minute. UPDATE: Trump ends councils with a Tweet.
UPDATE: Amid a bleeding set of councils (see below), Trump suggested this afternoon that he was "ending" said councils. His Tweet read as follows: "Rather than putting pressure on the businesspeople of the Manufacturing Council & Strategy & Policy Forum, I am ending both. Thank you all!" The rest of this article remains as it was before this update.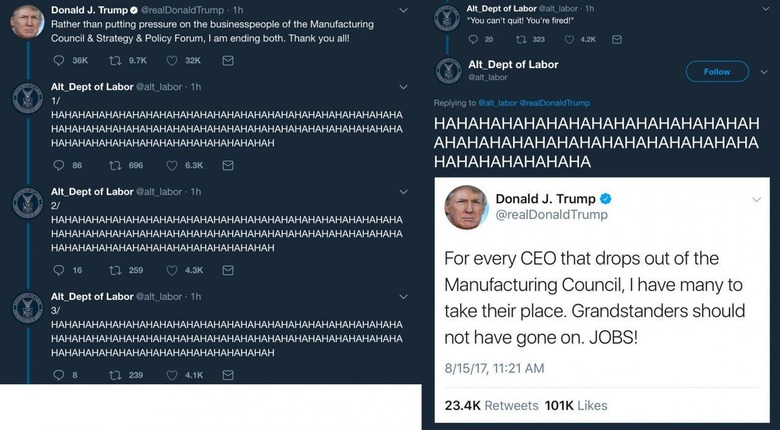 A third company – Merck – found themselves at the center of attention as company CEO Kenneth Frazier was bullied by Trump after leaving the council this weekend. Trump's Twitter outburst about Frazier's exit generated many negative comments on open forums like Twitter, thus creating a bit of a paradox in the chart you'll see below. As Business Insider mentions, the algorithm Brandwatch uses cant decipher context, and so finds outrage on behalf of Merck's CEO just as "negative" as negative comments toward the company.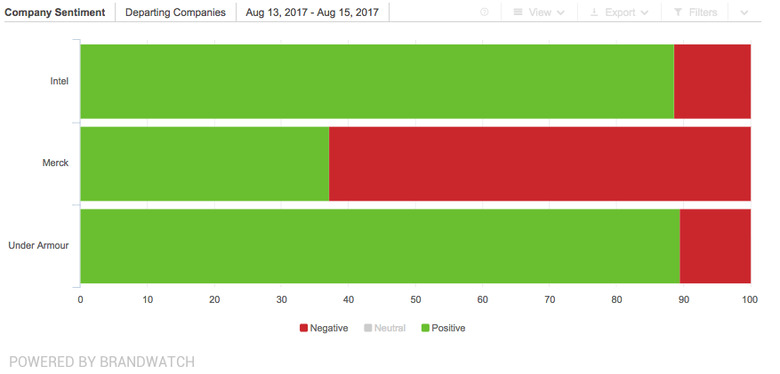 The majority of the comments that appeared negative following Frazier's exit from Trump's council had largely to do with Trump's reaction. Specifically here because Trump singled out Frazier, seeming to completely disregard the other two companies' council member exits. Trump's brand – on the other hand – has suffered another massive hit.
The exit of these three companies form Trump's manufacturing council were due in a big way to Trump's reaction to the White Nationalist / Nazi rally in Charlottesville, Virginia. After a car rammed into a crowd of protestors during the event, Trump's off-the-cuff response was that there was violence and blame "on many sides."
After intense pressure from the public, two full days later, Trump read a prepared statement which condemned the KKK, neo-Nazis, and white supremacists. On Tuesday, Trump once again went off-script, suggesting that the "Unite the Right" rally had a permit and "the other group didn't have a permit." As shown by NPR, Trump also suggested that "there are two sides to a story" and that the public removal of Confederate statues was the equivalent of removing statues of George Washington.
After Trump's third flip-flop, Alliance for American Manufacturing leader Scott Paul and AFL-CIO leader Richard Trumka left the council. "I cannot sit on a council for a President that tolerates bigotry and domestic terrorism," said Trumka. Economist and former deputy chief of staff at AFL-CIO Thea Lee also resigned from the council Tuesday.
"A lot of them went onto them thinking this is a pro-business president and we have an opportunity to influence what's going on," said Bill George, former CEO of Medtronic and Harvard Business School professor via Mercury News. "Now, for many of them, the actions Trump is taking violate core principles that not only their companies, but they themselves, have."
For more information on the Charlottesville event Trump has defended above, have a look at this Vice report. Vice recorded and produced a 22-minute documentation of the event and has released this video for free, for all to witness. It's not a pretty thing.