CompactFlash Association announces XQD as next generation for high-end camera memory cards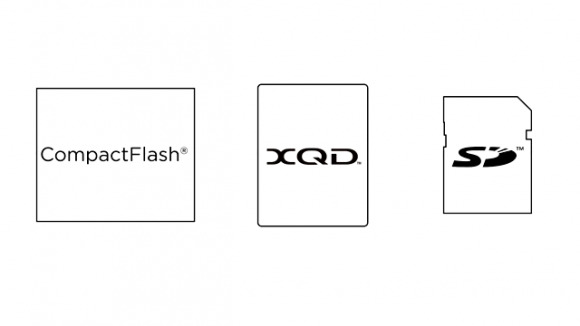 Just when you think you've got all your memory card problems figured out, BAM, along comes the CompactFlash Association with an announcement that it has adopted a brand new specification and format called XQD to replace what some (of course) call the too-venerable CompactFlash memory card we've been using for a while now in our high-end cameras. This new XQD format is a PCI Express-based memory card that's both smaller and faster than the current CompactFlash format cards. XQD is also said to offer significant benefits over the competition – that competition of course being Secure Digital (aka SD)'s SDHC and SDXC cards.
Though this newer card has essentially the same thickness as the CF card, it is 38.5 x 29.8 x 3.8mm and takes on the shape of what appears to be a golden rectangle – quite nice to look at, yes? Much better than that nasty old fat rectangle we've been using, yuck! This card is based on PCI Express instead of SD's PCMCIA standard, this offering up a base maximum transfer rate of 2.5Gbps – sweet speeds! The folks at the CompactFlash Association have targeted the speeds for this card at 125MB/s to start, but we can expect 250MB/s transfer rates in the future. CFA chairman Shigeto Kanda noted:
"The XQD format will enable further evolution of hardware and imaging applications, and widen the memory card options available to CompactFlash users such as professional photographers." – Kanda
This XQD card will be shown off for the first time publicly in February at the CP+ trade show in Japan. At the moment there does not appear to be any launch partners and no cameras have signed on to carry the card as of yet. We'll see how quick this format catches on next year!
[via Ars Technica]