Commodore 64 Laptop Mod: Ben Heck Strikes Again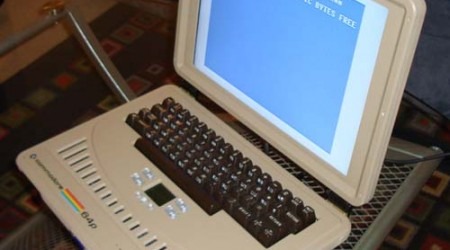 Ben Heck has been at it again, this time taking a Commodore 64 and transforming it into a laptop that "looked exactly like a computer from the early 80's, yet in a new form."  As well as fully-functional C64 hardware, the laptop has a 15-inch screen, original keyboard and even a separate sub-screen for memory status.
More photos and video of the C64 laptop after the cut
For storage, Ben replaced the floppy drive with a board that emulates it with an SD card.  That same board lets you hook up a basic Nokia phone display, to show memory use and other stats.  Underneath there's a cartridge slot, and there are two speakers even though the C64 was (and still is) mono only.
This is apparently both Ben's longest and shortest projects; the longest as he first tackled a C64 laptop back in 2006, and the shortest as once he decided to actually complete this mod it only took him a week and a half.  No word on what's going to happen to the C64 laptop, whether it's destined for eBay or a keeper.
]
[via Nowhere Else]